Porsche accused of altering Cayman R emission test for UK market
Pulling away in second gear said to have produced reduced CO2 readings for Porsche Cayman R, leading to lower tax bills for owners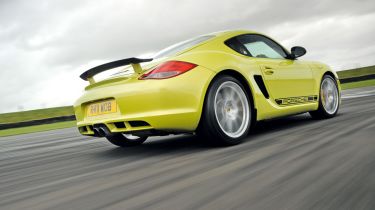 Porsche has been caught up in emissions test irregularities, after a tribunal heard it altered the UK test regime the Cayman R was subjected to. 
The company is understood to have started the Cayman R's UK carbon dioxide (CO2) emissions test in second gear as opposed to first, with the result being that it produced less CO2 when assessed. The previous-generation Cayman R's UK emissions test result was 221g/km (grams per kilometre) or CO2 yet, in the rest of Europe, it was rated at 228g/km. 
The lower reading means UK examples of the Cayman R sat in band K instead of L of the road tax regime at the time. While the associated cost of those bands has changed over the years with inflation, the jump between them has always been the sharpest of any on the road tax table. Band K is currently £315 a year and band L stands at £540.
The claims were inadvertently uncovered by the legal team of a Cayman R owner, who sued Porsche in 2011 over an alleged defect with his vehicle. While that claim was settled by Porsche, the owner approached the company for more information related to the car's emissions, and also asked the Vehicle Certification Agency (VCA) - the organisation charged with certifying vehicle emissions in the UK - for relevant data.
• WLTP and RDE real-world emissions tests explained
Both Porsche and the VCA initially refused to disclose the information but, at a Freedom of Information tribunal, a Porsche representative said the differences between the Cayman R's UK CO2 emissions and its European ones were due to "different taxation regimes" between the UK and the rest of the continent.
The VCA said Porsche had explained the Cayman R's discrepancy "was confirmed as being in line with the appropriate type approval legislation". Porsche told the Times, which uncovered news of the test irregularities, that it was unable to comment on the issue due to it being "linked to ongoing legal proceedings".
Get the full story on the VW emissions scandal here...