Next Porsche Boxster and Cayman to get 4cyl turbos
Although most of the next Porsche Boxster/Cayman range will use 4cyl turbo engines, the current flat-six could return after all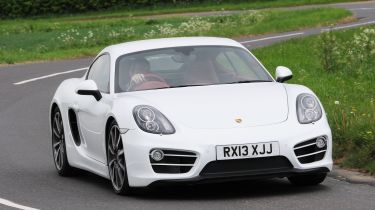 The next Porsche Cayman and Boxster are in line to get four-cylinder turbocharged engines in a move that mirrors the shift to turbo power in the latest facelifted 911. While the mainstream versions will go turbo, performance orientated versions like the Cayman GT4 and Boxster Spyder could retain their naturally aspirated engines.
Boxster and Cayman boss Dr Stefan Wechbach said feedback on the existing Cayman GT4 and Boxster Spyder's 3.8-litre naturally aspirated engine was "overwhelming", prompting talks of continuing atmospheric engine production for the hottest models in the next generation of cars.
"Maybe it's even a point of differentiation that Porsche can still use naturally aspirated engines if the competition doesn't in the future", he said at the Frankfurt Motor Show this week.
Wechbach acknowledged the engineering challenges of offering both four- and six-cylinder engines in the same models, but mentioned some customers have asked Porsche about plug-in hybrid models too. "We have to deal [with these challenges] and we are dealing with them", he said.
The move to smaller capacity turbocharged engines has been prompted by emissions, although turbo engines will: "offer the advantages our customers want: performance, acceleration, high speed and torque," according to Wechbach.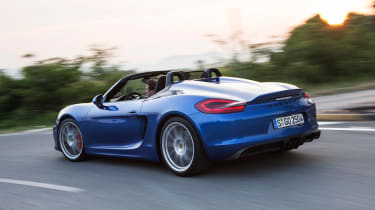 He also rejected claims that there must be a big gap between the Cayman and 911 in terms of price and performance. "There has been a discussion if the Cayman must have significantly less performance than the 911 Carrera. This is a fair point, but if you have a closer look at the cars, on the one hand you have a two seat, mid-engined car. On the other hand you have a 2+2 rear engined car.
"We've discussed it a lot with customers. If someone wants to have a 911, he will go for the 911. It doesn't matter if the Cayman GT4 is faster or cheaper, the 911 is the icon of our brand and the overlapping of the customer groups is quite small.
"So we decided with the GT4 and the Boxster Spyder that we could have more performant models with the Boxster and Cayman range which are touching, but not overtaking, the 911 Carrera in terms of performance."
He also denied the introduction of four-cylinder engines would increase the gap between the Boxster/Cayman and 911. "We will always offer the sportiest model in each segment, that's why we wouldn't go for a down shift [in market positioning] with the next generation of Boxster and Cayman," he said.
Read all of the latest news from the Frankfurt Motor Show 2015 here.