'Speculator' Porsche Cayman GT4s removed from official website
After being accused of colluding with speculators, Porsche dealers remove cars advertised at well over list price from the website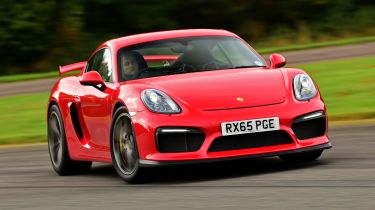 Porsche dealers have removed all of the Porsche Cayman GT4 models they were selling at well over list price from the brand's approved used website, following accusations of dealers colluding with speculators to inflate prices.
Auto Express revealed how Porsche dealers were advertising nearly new GT4s at more than £30,000 over the original list price. Only two weeks later, all models have been removed from official websites.
• Best performance cars to buy now
Rumours that Porsche GB had asked its dealers to remove these cars from sale have been vehemently denied. A Porsche GB spokesman told Auto Express, "We cannot tell our dealers what they can or can't do. No communications have gone from Porsche to the dealers to that effect."
However, in spite of the cars no longer being advertised, dealers are still openly offering the cars for sale, with one reader telling Auto Express he had been offered eight different GT4s at prices well over list from official Porsche centres.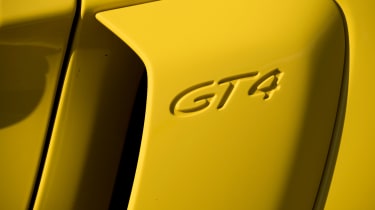 With low volume cars like the Cayman GT4 plus the 911 GT3 RS and upcoming 911 R all being available in limited number, Auto Express has been contacted by numerous potential buyers, many existing Porsche owners, who are furious with the way the sale of these special models has been treated.
One Porsche owner told us, "I was offered a 911 GT3 RS (with 100 miles on the clock) by a dealer who said the buyer changed his mind and would take £100,000 profit to get out of the car. So the dealer gets profit on the initial sale, then another profit on the resale. It's a scam its been going on for years and will never stop.
"I have had four new cars and three used cars from Porsche main dealers in the last 15 years – never again." 
Porsche Cayman GT4 speculation
Auto Express reader and Porsche enthusiast Paul Nicola from Wimborne in Dorset contacted us to vent his frustration at being unable to buy certain Porsche models when new, only to be offered nearly new models at tens of thousands of pounds over list price by Porsche dealers.
"Over the past five years I have contacted my local Porsche dealer on numerous occasions in the hope of getting a GT3, GT3 RS a Cayman GT4 and more recently a 911 R," said Mr Nicola.
"My requests were mostly ignored, sometimes laughed at, and they always said that these cars were in very short supply and were only sold to very 'loyal' Porsche customers."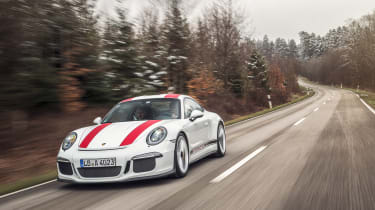 However, just weeks after the Cayman GT4 was launched with a list price of £64,451. Mr Nicola was contacted by a dealer offering him a GT4 that he had in stock and was fitted with a few extras for £103,000.
In the second week of March 2016 Porsche dealers across the country had 16 Cayman GT4s advertised on Porsche's Approved Used website, with prices ranging from £94,981 to £109,990. Most cars advertised showing prices and details had just a few hundred miles on the clock. Numerous other GT4s were (and still are) for sale from specialist retailers with prices starting at £94,995.
Mr Nicola told us, "Maybe the dealers and their 'loyal customers' who have been fortunate enough to get on the waiting list for one of these are actually manipulating a black market in these cars for huge profit and are stopping buyers who want a car to drive from getting one? This stinks."
A Porsche GB spokesman told us that over 400 Cayman GT4s have already been delivered and that demand had outstripped supply. However, he denied any wrongdoing by dealers, telling us the cars for sale could well have been from people who had changed their minds about the car at the last minute.
"We leave allocation of cars to individual Porsche centres," he told us. "They know the customers best. And we would always encourage people to buy the cars to drive them."
"The market decides on value and Porsche dealers will look outside of the network when they decide what to price a used car at."
What do you think about the practice of speculating on the value of performance cars? Let us know in the comments section below...