Winter tyre reviews 2023: results by category
Which winter tyre performed well in which area? Our tables reveal all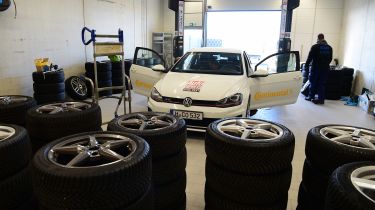 Newer arrivals have raised the performance bar in our winter tyre test, but Vredestein has yet to join them. A replacement or update for the Wintrac Pro is needed if the Dutch tyre is to get in among the pacesetters.
There is little to choose between the next four. The Michelin Alpin 6 is wearing its age well, but rivals have the edge over the French design in most areas.
Pirelli needs to balance the Cinturato Winter 2's snow performance with an improvement in wet grip, while Hankook's product development team has a good platform to build on with the Winter i*cept RS3.
It is a promising debut for Goodyear's newest UltraGrip tyre, with the Performance 3 proving to be the deep-water star in this year's evaluation in Germany.
Bridgestone has to settle for its second runner-up finish on the trot with the Blizzak LM005, but it remains a good choice. The Continental WinterContact TS 870 retains our winter tyre crown, thanks to an all-round good performance.
Winner
Continental WinterContact TS 870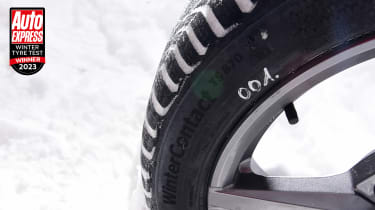 A second successive win for the TS 870, which again delivered a well balanced performance. It was on the pace in the Swedish snow, but it was its excellent dry and wet performance in Germany that delivered another victory. The Continental was also the best for fuel economy and battery range.
Results
Overall
| | | |
| --- | --- | --- |
| 1st | Continental | 100 |
| 2nd | Bridgestone | 99.7 |
| 3rd | Goodyear | 99.4 |
| 4th | Hankook | 99.3 |
| 5th | Pirelli | 99.1 |
| 6th | Michelin | 98.7 |
| 7th | Vredestein | 96.8 |
| AS | Hankook | 97.7 |
| Sum | Bridgestone | 86.1 |
Price
| | | |
| --- | --- | --- |
| 1st | Vredestein | £115.20 |
| 2nd | Hankook | £117.40 |
| 3rd | Bridgestone | £133.80 |
| 4th | Continental | £144.70 |
| 5th | Pirelli | £148.20 |
| 6th | Goodyear | £148.50 |
| 7th | Michelin | £152.10 |
| AS | Hankook | £104.90 |
| Sum | Bridgestone | £102.50 |
Snow braking
| | | |
| --- | --- | --- |
| 1st | Bridgestone | 100 |
| 2nd | Pirelli | 99.5 |
| 3rd | Hankook | 99.3 |
| 4th | Michelin | 99.2 |
| 5th | Goodyear | 98.6 |
| 6th | Vredestein | 98.1 |
| 7th | Continental | 97.8 |
| AS | Hankook | 91.3 |
| Sum | Bridgestone | 35.6 |
Snow traction
| | | |
| --- | --- | --- |
| 1st | Bridgestone | 100 |
| 2nd | Michelin | 98.7 |
| 3rd | Goodyear | 98.6 |
| 4th | Pirelli | 98.5 |
| 5th | Continental | 97.2 |
| 6th | Hankook | 97.1 |
| 7th | Vredestein | 95.8 |
| AS | Hankook | 88.1 |
| Sum | Bridgestone | 22.7 |
Straight aquaplaning
| | | |
| --- | --- | --- |
| 1st | Goodyear | 100 |
| 2nd | Continental | 99.9 |
| 3rd | Hankook | 98.9 |
| 4th | Bridgestone | 96 |
| 5th | Michelin | 95.6 |
| 6th | Pirelli | 95.1 |
| 7th | Vredestein | 91.7 |
| AS | Hankook | 96 |
| Sum | Bridgestone | 96.4 |
Curved aquaplaning
| | | |
| --- | --- | --- |
| 1st | Goodyear | 100 |
| 2nd | Continental | 98.6 |
| 3rd | Hankook | 97.3 |
| 4th | Michelin | 91.3 |
| 5th | Bridgestone | 88.6 |
| 6th | Pirelli | 82.1 |
| 7th | Vredestein | 79.2 |
| AS | Hankook | 91.7 |
| Sum | Bridgestone | 105.8 |
Wet braking
| | | |
| --- | --- | --- |
| 1st | Hankook | 100 |
| 2nd | Continental | 99 |
| 3rd | Bridgestone | 98.9 |
| =4th | Goodyear | 98.7 |
| =4th | Michelin | 98.7 |
| 6th | Pirelli | 98.3 |
| 7th | Vredestein | 90.8 |
| AS | Hankook | 95.1 |
| Sum | Bridgestone | 91.4 |
Wet handling
| | | |
| --- | --- | --- |
| 1st | Continental | 100 |
| 2nd | Goodyear | 99.2 |
| 3rd | Hankook | 99.1 |
| =4th | Bridgestone | 99 |
| =4th | Pirelli | 99 |
| 6th | Michelin | 97.8 |
| 7th | Vredestein | 96 |
| AS | Hankook | 97 |
| Sum | Bridgestone | 95.3 |
Wet circle
| | | |
| --- | --- | --- |
| 1st | Bridgestone | 100 |
| 2nd | Continental | 99.8 |
| 3rd | Goodyear | 99.3 |
| 4th | Hankook | 99.2 |
| 5th | Pirelli | 99.1 |
| 6th | Michelin | 97 |
| 7th | Vredestein | 96 |
| AS | Hankook | 100.9 |
| Sum | Bridgestone | 103.2 |
Dry braking
| | | |
| --- | --- | --- |
| 1st | Pirelli | 100 |
| 2nd | Continental | 99.1 |
| 3rd | Michelin | 98.3 |
| 4th | Goodyear | 97.8 |
| =5th | Bridgestone | 97.6 |
| =5th | Vredestein | 97.6 |
| 7th | Hankook | 96.7 |
| AS | Hankook | 108.1 |
| Sum | Bridgestone | 119.9 |
Dry handling
| | | |
| --- | --- | --- |
| 1st | Hankook | 100 |
| 2nd | Continental | 99.5 |
| 3rd | Goodyear | 99.3 |
| =4th | Bridgestone | 99 |
| =4th | Vredestein | 99 |
| 6th | Michelin | 98.7 |
| 7th | Pirelli | 98.6 |
| AS | Hankook | 99.8 |
| Sum | Bridgestone | 103.7 |
Rolling resistance
| | | |
| --- | --- | --- |
| 1st | Continental | 100 |
| 2nd | Bridgestone | 99 |
| 3rd | Vredestein | 97.5 |
| 4th | Michelin | 96.5 |
| 5th | Goodyear | 92.7 |
| 6th | Pirelli | 91.4 |
| 7th | Hankook | 88.2 |
| AS | Hankook | 94.5 |
| Sum | Bridgestone | 79.3 |
Cabin noise
| | | |
| --- | --- | --- |
| =1st | Continental | 100 |
| =1st | Goodyear | 100 |
| =1st | Vredestein | 100 |
| 4th | Bridgestone | 99.9 |
| 5th | Pirelli | 99.8 |
| 6th | Hankook | 99.6 |
| 7th | Michelin | 98.9 |
| AS | Hankook | 101.5 |
| Sum | Bridgestone | 100.4 |