Michelin Alpin 6 review
Excellent wet performance means the Michelin Alpin 6 is well suited to the type of winters we experience in the UK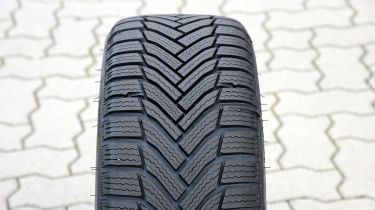 The Alpin 6 made a strong test debut when we looked at this size in 2019, but it has fallen a little further away from the leaders and has to be happy with a place just outside the podium here.
As we have seen in previous years, the Alpin 6 is not at its best in snow, but that makes it a good candidate for UK conditions. It only beat the struggling Avon in Finland, and was some three per cent behind the test-topping Continental.
That lack of sub-zero performance was compensated by a runner-up result in the wet tests, with podium finishes in the shallow water assessments. The Alpin 6 had a great balance around the wet handling circuit, and it was also best of the rest in braking behind runaway winner Bridgestone. It was less competitive in the dry, but the margins were small. The same sharpness we felt in the wet is there with little push on the throttle, making it easy to find and maintain the line.
Less good were cabin noise and fuel economy. Low rolling resistance was once a Michelin hallmark, but it now delivers a better balance between that and wet grip.
We say:
It's almost as if we're repeating our verdict on the Alpin 6 from previous tests, because it yet again proves to be a great option for UK winters with its strong wet performance.
Blackcircles.com says:
Launched at the end of 2018, motorists have been impressed with the tyre's grip and complete performance. Customers have left an overall score of 4.4/5.
| | | |
| --- | --- | --- |
| Michelin Alpin 6 | | |
| Overall: | 97.10% | |
| Price: | £130.14 | |
| Snow braking: | 96.5% | 8th |
| Snow traction: | 97.7% | 3rd |
| Straight aquaplaning: | 95.3% | 6th |
| Curved aquaplaning: | 87.1% | 5th |
| Wet braking: | 92.6% | 2nd |
| Wet handling: | 98.8% | 3rd |
| Wet circle: | 97.9% | 2nd |
| Dry braking: | 94.6% | 5th |
| Dry handling: | 98.1% | 7th |
| Rolling resistance: | 90.0% | 5th |
| Cabin noise: | 97.4% | 8th |