Renault vans – all the car you'll ever need? (sponsored)
Could you replace your car with a van? Many people do and never look back.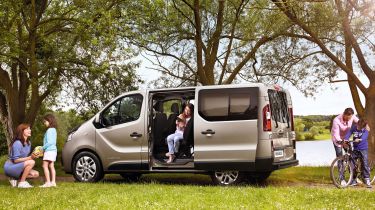 What do you want from your next car? For a lot of people qualities like space, practicality, reliability and value for money will be top of the agenda. But how many of those people even consider fulfilling all their needs, and more, with a van?
Yes, a van isn't the obvious choice but it can be the best one when it comes to meeting the wide and varied range of commitments we all have in our lives. When the line between work and family life blurs or your passion for outdoor adventure outgrows your ageing hatchback, commercial vehicles can fill the void as the ultimate everyday utility tool.
• What Renault Pro+ can do for your business
Renault knows a thing or two about the crossover between business and leisure, offering a varied light commercial vehicle range with a huge array of choice and the ability to adapt to a customer's specific needs. With commercial vehicle models ranging from 2 to 17 seats, and from 3m3 to 17m3 in carrying capacity, there will be a Renault van that can accommodate everything most people need it to, with ease.
The real appeal, however, is the way models like the Kangoo and Trafic can do life's heavy lifting without forcing you into sacrifices elsewhere. Many tradespeople, entrepreneurs, sports coaches, outdoor activity fans, festivalgoers and parents are finding that vans can do it all with very few of the drawbacks you might expect. Owning the right van can be both better than owning a car and better than owning a car and a van – the trick is finding the right van. This guide to Renault's people carrying vans will show you how do it…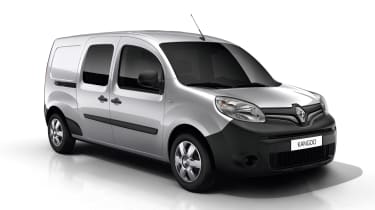 Practicality
We're concentrating here on vans with at least a second row of seats. Models that only have seats in the front lack that extra degree of passenger carrying potential that's needed to make them a viable alternative to a car in most people's eyes. In the Renault van range, it's the Renault Kangoo Crew Van, Trafic Crew Van, Trafic Passenger and Master Passenger models that best fit the bill.
The compact Kangoo van is only 4.3m long, shorter than the Megane family hatchback from the passenger car range, but the Crew Cab model can easily seat five adults and still offer a huge cargo area behind.
• How F1® tech keeps Renault vans in pole position
The multi-position bulkhead that's standard on the Crew Cab Kangoo's is an inventive solution to help owners make the most of all that space. When the second row seats are in use, it sits behind the seat backs to shield occupants from the contents of the load area but when you fold the back seats down to extend the cargo space the bulkhead cleverly relocates to the rear of the front seats, to perform the same role.
It's an example of the kind of smart thinking that Renault has included throughout its commercial vehicle line-up but close attention has also been paid to the smaller details.
As working vehicles, these vans are designed to be easy to use first and foremost, so features like wide-opening doors, low loading heights, sturdy materials and simple controls are common throughout the Renault range. Happily, these are also features that make Renault vans hugely practical as replacements for more traditional passenger cars.
Comfort
If you're wondering whether a van really could serve you and your family instead of a car, the issue of comfort will probably be weighing heavy on your mind. It's an understandable concern because in the past vans have gained a, sometimes justifiable, reputation for being a little rough around the edges. Today, however, vehicles like the 6-seat Renault Trafic Crew Van and the 9-seat Trafic Passenger really do offer car-like levels of ride quality, passenger comfort and equipment.
The Trafic Passenger has a load area of up to 4m3 behind its two rows of seats, larger than the space available in a standard 2-seat Kangoo van, but it also delivers a smooth, refined ride to all the occupants of its 6 adult-sized seats.
The driver gets a high SUV-style driving position for great visibility and light controls that make long journeys a breeze. Standard equipment levels include a DAB radio, electric windows, reach and rake adjustment on the steering wheel, and a multi-adjustable driver's seat with an armrest. Full leather seats are an option, as are side steps, a tow bar and Renault even offers purpose-built wheelchair accessible models. You can tailor the Trafic to your precise requirements but every model will deliver comfort levels that exceed expectations.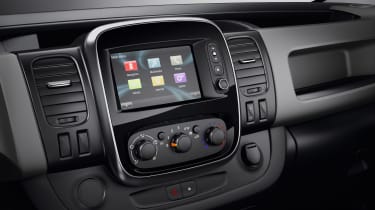 Technology and safety
When you wave goodbye to your car and say hello to a new multi-purpose model from the Renault commercial vehicle range, you won't be making any sacrifices in terms of technology or safety. Renault's R-Link multimedia system is optional across the van line-up, combining TomTom® satellite navigation, DAB radio, and economy driving information together with many other useful features accessed through a sharp touchscreen.
Even on the Kangoo Crew Van, standard safety kit includes stability control, and a driver's airbag with remote central locking and an alarm with an electronic immobilizer to boost security. Climb the range to a model like the 9-seat Trafic Passenger in Sport trim and you get front fog lights, rear parking sensors and cruise control with a speed limiter all included in a specification that goes beyond that of many passenger cars.
• Renault vans: exploring the benefits to your business
Could a Renault van be all the car you need?
If you need the ultimate in capacity and practicality from your family car or you want to cater for all your business and personal commitments with a single vehicle, there's no question that the Renault van range is worth a look. With a huge selection of potential options and capacities on offer there will be a Renault van to fit your needs.
Better still, the sacrifices you may think you'll need to make when you swap a passenger car for a dual-purpose van never really materialise. Comfort, technology, safety; the latest Renault vans can more than hold their own in the areas where you'd think a commercial vehicle might falter. Give a Renault van a try and you might never look back.
Now take our quick van ownership survey for your chance to will a £100 Halfords voucher...