'Renault is setting the scene for a new French revolution'
John McIlroy thinks Renault's electric car future looks promising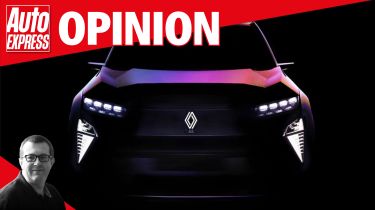 It's been 18 months since Renault launched its 'Renaulution' – a radical plan to turn around the company by lowering its costs, restructuring its range of cars and focusing on electrification. And last week the firm's boss, Luca de Meo, revealed that most of the goals have been achieved at least a year ahead of schedule. 
Now comes the next step. Renault is looking to double down on the C-segment – the mid-sized cars that so many of us buy. An all-electric Mégane will come first, but during last week's financial results call, de Meo revealed that a reborn version of the Scénic is also on the way.
This is an intriguing move from the French brand, which has a strong history of coming up with novel people-carriers – first the Espace, which pretty much created the genre in Europe, and then the Scénic. De Meo was remaining tight-lipped on details, but he did say there's no way the car is going to be a conventional, boxy MPV shape on top of an electric platform.
So it's hard not to draw a connection between the Scénic plan and a teaser shot of a concept issued by Renault during the same presentation. It's supposed to arrive in May and showcase sustainability, with a hydrogen-powered engine. But at the same time, de Meo said, "This concept will announce a future product." Anyone want to take a guess which one?
The electric car market is still developing rapidly, but there's no less desire and demand from consumers for space and carrying capacity than there was a decade ago. Renault could well tap into this, if it can harness the Scénic's clever heritage and wrap it up in a modern design that's relevant for today's trends. 
De Meo told us, "I'm confident on what we're doing with engineering and design, so all the projects look very good." It's going to be fascinating to see how that promise transfers to real metal in the years ahead. 
Check out the latest on Renault's upcoming electric 5 hatchback here...