'Renault dealers must deliver on the new Clio's promise'
Editor-in-chief Steve Fowler thinks Renault's dealer network needs to step up for the all-new Renault Clio to be a true success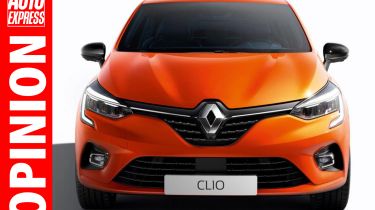 It's been an interesting few years for Renault. After a fairly brutal culling of its model range, it has built a new line-up around a range of competitive SUVs backed up by old favourites the Clio and Megane, while following Alliance partner Nissan on an EV path. Big Renaults are a thing of the past – for us at least – as is an attempt at going upmarket with Initiale Paris models.
Remarkably (because it's a car we don't rate particularly highly) the current Clio is Europe's second most popular car on registrations. It's good looking – as Renaults have always been – but it's rather stodgy to drive, with levels of quality that are some way off the class norm.
• New Renault Clio arrives with a focus on tech and quality
Now entering its fifth generation, the new Clio looks one that Renault's dealers will find even easier to sell. Its evolutionary styling makes it one of the most appealing superminis on kerb appeal alone, plus it also pulls off the handy feat of being bigger on the inside while being smaller on the outside than the outgoing car.
Factor in the promise of a better drive, the latest tech and much-improved quality, and it stands a good chance of moving well up our supermini rankings.
The Clio, like similar offerings from unashamedly mainstream brands, is knocking on the door not only of premium marques in terms of quality, but also cars that traditionally sit in the class above. For example, the new Mazda 3 has a smaller boot than the Clio!
However, the new car could be about to be launched with one handicap: Renault's retailers. They've had a rollercoaster ride during all the product changes, so perhaps it's no surprise they don't have a great reputation; they finished in 27th place (out of 28) in 2018's Driver Power customer satisfaction survey. Maybe the simple solution is to give Clio customers the option of not going to showrooms at all and buying it online instead? It's the sort of brave thinking this new car deserves.
Click here for our full list of the best and worst dealers in the UK....