Renault Pro+ vans: The home of conversions
Whether you're looking for an off-the-shelf solution or a bespoke build, Renault Pro+ will have a conversion that's ideal for your needs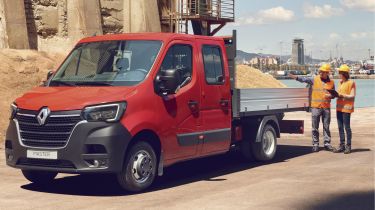 The small Renault Kangoo, mid-size Renault Trafic and large Renault Master all come in a variety of panel-van sizes, but did you know that a wide range of conversions are also available? From bespoke builds based on chassis cabs to low height Lutons, box vans, tippers and campervans, there is a Renault Pro+ vehicle on offer to suit virtually any business need. Here, we guide you through the options that are available.
Renault offers two types of conversion: 'Off the Shelf' models that are produced at the factory, or 'Tailor Made' models that are fitted out by Renault's network of accredited converters. With 'Off the Shelf' conversions, you can simply go into your local Renault dealer or Renault Pro+ commercial vehicle specialist and order a conversion straight from the brochure. These models come with the same three-year/100,000-mile warranty as a Renault Pro+ panel van, to give you added peace of mind.
• New 2019 Renault Master reveals all
Go for a 'Tailor Made' solution, and you'll get a work vehicle that will not only be perfectly suited to your needs, but will also be built to the highest standards possible. Accredited converters must meet Renault's technical and quality standards to be an approved partner.
The beauty of a 'Tailor Made' conversion is that Renault's accredited converters can also produce bespoke vehicles to your specific needs. Whatever you demand, the conversion will be built to a high standard that will give you confidence that your new work vehicle will be able to take on the job it's designed for.
So, what can you expect when you visit your Renault Pro+ dealer to talk about conversions? Below we highlight some of the conversion options available on the Renault Master and Trafic ranges.
Renault Master conversions
The Renault Master truly is the Swiss Army knife of large vans. It's available in front and rear-wheel drive formats, three wheelbases, four lengths and gross vehicle weights of up to 4.5 tonnes. There's even a twin rear-wheel drive variant for extra towing capability. And with power from a 2.3 litre twin turbo diesel engine, delivering plenty of torque, you can be sure that it has the power to perform, while also delivering competitive running costs. Looking to reduce fuel costs further? There's also a 100% electric variant available in a range of bodies and sizes to fit your needs.
So what are the most popular 'Off the Shelf' versions of the Renault Master? The low height Lutons, tippers & dropsides plus box vans all prove popular. And the beauty is, that because these conversions are universally popular Renault dealers up and down the country can supply these vehicles like they would any other vehicle.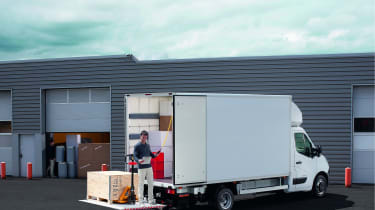 If you're after a bespoke 'Tailor Made' solution, then it really is a simple question of speaking to a Renault Pro+ specialist or viewing the range of possibilities from Renault online. The broad network of accredited converters in the UK that Renault Pro+ can call on makes life easier. On top of this, the expertise of Renault Tech, Renault's in-house conversion specialist operating at the Renault Master factory in France, is there to help.
Renault Pro+ accredited companies specialise in a wide range of conversions, including emergency services vehicles, camper vans, minibuses and taxis, wheelchair-accessible models, temperature-controlled solutions, bespoke box vans, Luton and curtainside conversions, tail-lifts, towing, cherry pickers and even horse boxes. There's unlikely to be a conversion they haven't come across.
Renault Trafic conversions
The Renault Trafic is available in two body lengths and two roof heights, which makes it great for a mid-sized conversion. In addition, the Crew van (seats up to six) and Passenger (seats up to nine) models offer extra flexibility if you're looking to move people as well as loads.
The Renault Trafic conversions form part of the 'Tailor Made' programme, i.e. models available via accredited converters that are built to a very high standard. Chief among these Trafic conversions is the wheelchair accessible vehicle. It's based on the Trafic nine-seat minibus, and is available in standard or long wheelbases. It adds a folding aluminium ramp at the back doors, an anti-slip floor and a set of tie-down clamps and retractors designed to hold a wheelchair securely in position.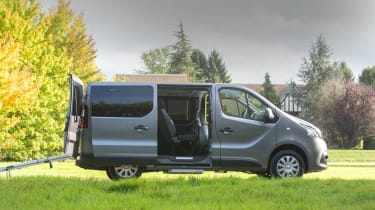 Elsewhere, the temperature-controlled conversions are ideal for users needing to keep goods cool, while a bespoke access platform variant offers a versatile and compact scissor-lift option. This eliminates the need for adding stabilising outriggers, making it better suited for working in areas with tight access, but still needing a reach of up to 9.2 metres high.
From work to play, the Trafic is available in a campervan conversion for camping holidays. It comes with a dormer roof, twin-burner hob, a sink, water tanks, heating and the ability for up to four people to sleep inside. As it's based on the Trafic van, there's plenty of space on offer for a trip to the country.
Whichever conversion you're looking for, the Renault Pro+ network of specialist dealers will be able to offer you expert advice on choosing the right conversion for your needs.
For more information on Renault Master and Renault Trafic conversions, visit renault.co.uk or your local Renault Pro+ specialist for full details.