Renault Trafic: a far-reaching facelift for the mid-sized frontrunner
Far-reaching changes mean the Renault Trafic is still a top-pick for van buyers
Almost 40 years after it was first unveiled, the Renault Trafic is still as popular as ever with British buyers. The 2019 model was unveiled to the press earlier this year, and although its looks may not have dramatically altered, there are some significant changes under the bonnet.
Gone are the previous model's 1.6 litre engines, replaced by three new 2.0 litre turbodiesels that offer power outputs of 120, 145 or 170bhp with the most powerful engine delivering 380 Nm of torque. These new engines all meet the latest emissions regulations and, despite the increase in capacity, offer fuel economy improvements of around 15%* compared to the previous Renault Trafic models.
• Renault Master: a big step forward for business owners
A six-speed manual gearbox comes as standard, although you can opt for a new six-speed EDC (Efficient Dual Clutch) automatic transmission with the two most powerful engines, making round-town driving easier and more relaxing.
The Trafic and the larger new Renault Master both share the new Renault Pro+ van 'face' – the redesigned front end includes a new grille and the Renault family C-shaped LED daytime running lights giving the Trafic a bold new look. Inside, the Trafic gets new seat fabrics designed to be harder-wearing, while a chrome trim lends a classier looking dashboard**. Renault's latest infotainment systems are present, plus there's the option of Android Auto™ or Apple CarPlay® connectivity†.
The Trafic's load-carrying ability depends on the body style you opt for – there's between 5.2 and 8.6 cubic metres of space available, with a total of 18 anchorage points, fully-opening rear doors and a through-load facility‡ that enables longer items to project through into the cab. Load area LED lighting is available as an option, as is a hands free keycard, to make loading and unloading that bit easier.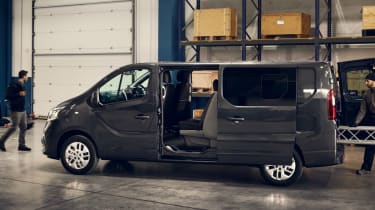 The redesigned interiors and new fabrics have made the driving environment a comfortable ride for those who spend plenty of time behind the wheel. Couriers and parcel delivery drivers, in particular, should like the way the Trafic drives and, since there aren't any major changes to the load area, anyone upgrading from the previous model will appreciate the upgrades to the interior and the engines while being familiar with the carrying capacity.
The Renault Trafic is also available in two passenger versions – the Trafic Passenger, seating up to 9, and luxurious Trafic SpaceClass for executive transport – and both of these have also received upgrades on previous models. All are available from the Renault Pro+ network, which offers a team of experts able to advise from purchase to usage. Additionally, the Renault Pro+ Business Commitment includes lifetime roadside recovery†† and a replacement vehicle should a fault occur within your warranty period‡‡.
The Renault Trafic offers a far-reaching facelift rather than a full-blown new van, but the upgraded features are all designed with the driver in mind. Most importantly perhaps, it means the Renault Trafic, once again, maintains its place as one of the leaders in the keenly-contested van market sector.
For more information on the new Renault Trafic, visit renault.co.uk or your local Renault Pro+ specialist for full details.
*fuel economy comparison based on Trafic SL27 dCi 120 vs. New Trafic SL28 ENERGY dCi 120 MY19.**Chrome interior trim on Sport models only.† Compatibility: an Android phone running Android 5.0 (Lollipop), an iPhone no earlier than iPhone 5 & iOS7.1. Connecting a smartphone to access Android Auto™ and Apple CarPlay® should only be done when the vehicle is safely parked. Drivers should only use the system when it is safe to do so and in compliance with the requirements of The Highway Code. Drivers should be aware of the potential of hands-free technology to distract a driver's attention from the road, preventing them from having full control of the vehicle.‡Standard on Sport and Business+ models, optional on Business trim levels.††Eligible on LCVs (Master/Trafic/Trafic Passenger/Kangoo) ordered from 1st October 2018 which have complied with the MOT and Servicing guidelines and time schedules set out in the manufacturers guidelines (as set out in the vehicle handbook).‡‡ A replacement vehicle will be provided subject to the fault occurring within the warranty period and the repair being covered under the Renault manufacturer's warranty. A replacement van or car of equivalent size will be provided, but will not include any conversions or installations. You will be responsible for the payment of a £1 deposit by debit/credit card. Commitment excludes any other incidental charges including but not limited to fuel, insurance excess and traffic fines.