Skoda boss calls on Governments to invest in EVs
More subsidies are required from Governments to make small EVS affordable, says CEO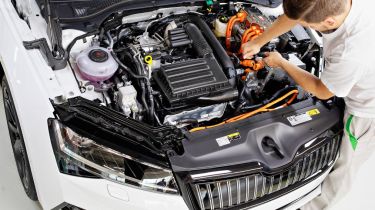 The CEO of Skoda, Berhard Maier, has called on Governments to further subsidise the cost of electric vehicles so that they can become more widely accessible to customers.
Skoda has committed to launching 10 fully electric or hybrid vehicles by 2030, but the Citigio iV is currently the only EV in the lineup. Maier said that demand for the small electric city car has been "quite substantial".
• Skoda plots 30 new models by 2022
Asked if this had encouraged the firm to launch a more affordable electric vehicle, Maier added: "The first electric vehicles are more expensive because the development costs are simply higher. Without substantial grants from governments or states it will be hardly accessible as a mass product."
The comments follow the decision by the UK Government to bring forward its plan to ban the sales of petrol, diesel and hybrid cars by 2035. Only the sale of vehicles with zero tailpipe emissions will be permitted under the new proposal, which has been brought forward from its original date of 2040. 
Maier also stressed the need for a more developed global recharging infrastructure, adding: "We have to have technology which is accessible to our customers, and the markets have to be prepared for electric technology.
"Take the Netherlands, for example: every three kilometres there is a charging station. In Germany it is every 20km, and in Czech Republic it is every 170km. So before we really start to ramp up electrification you have to have the infrastructure in place."
Do you think more investment in EVs? Let us know in the comments below...