Skoda plots 30 new models by 2022
Czech firm wants to sell two million cars per year by end of the decade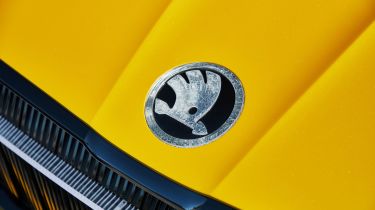 Skoda has outlined a plan to launch 30 new models in the next two years to help achieve its goal of selling two million cars per year by 2030, the company's boss has confirmed.
• New Skoda Vision IN concept previews future SUV
One of the first cars as part of that plan will be a production version of the Vision IN concept. Due to go on sale next year, the model reignites the VW Group's attempt, led by Skoda, to capitalise on the growing new car market in India. It will also be exported to Mexico, but not to any European countries, at least initially. 
Speaking to Auto Express at the unveiling of the concept, the company's boss Bernhard Maier said: "We will launch 30 new models in the years between now and 2022. They will be a mix of new models and derivatives, and 10 of them will be partially or fully electrified. And after 2022 we will not stop, we will ramp up."
The near future will see the company launch a new plug-in hybrid version of the Skoda Octavia vRS, plus two derivatives of a fully electric crossover based on the Group's MEB platform. 
Asked about a small dedicated electric car that stays true to Skoda's value for money ethos, Maier said: "First of all you have to have technology that is accessible for our customers and you have to have scale effects and have the markets prepared.
"There is still a huge difference in infrastructure. In the Netherlands, for instance, there is a charger every three kilometers, in Germany it is every 20 kilometers."
New generations of some of Skoda's core models, such as the Fabia and Superb, are also in the pipeline and will launch towards the end of the timeframe Maier outlined.
Read about our review of the Skoda Vision iV concept here...