Skoda SUV family to grow
Skoda has revealed plans to build a bigger SUV to rival the seven-seat Hyundai Santa Fe from 2015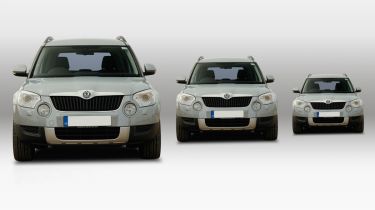 Skoda's plans for a bigger SUV than the Yeti are well advanced, with the new model due in 2015. It'll be available in five and seven-seat versions and won't feature the Yeti name, as was originally the plan.
Speaking to Auto Express, Skoda's Chairman Winfried Vahland said: "This needs to be a car that can sell 100,000 around the world, and the biggest demand for this type of car comes from China."
Vahland led Volkswagen in China between 2005 and 2010, and told us that he brought the idea of the big SUV back form the Far East. "The Chinese love the Yeti and they love bigger SUVs, which is where we need to go," he told us.
Yet although the Chinese market doesn't favour seven seaters, the new SUV will be sold with three rows of seats because of demand in other markets, notably Russia. The car VW has as a target for the new model is the Hyundai Santa Fe - a big global success for Hyundai and available in five and seven-seat versions.
However, the new big Skoda won't feature the Yeti name: "We have big plans globally for the Yeti," said Vahland. "We already make a stretched version of the Yeti in China and have started to build it in Russia, too. The Yeti needs to be a car we can sell 200,000 of each year."
Skoda finished 2012 having sold 939,200 cars – up 6.8 per cent on 2011. And Vahland has big expansion plans: "By 2018 we want to sell 1.5million cars globally. And between now and 2015, we'll be launching a new Skoda every six months."