Tow car of the year 2014 - Skoda Superb Estate 2.0 TDI 4x4 Elegance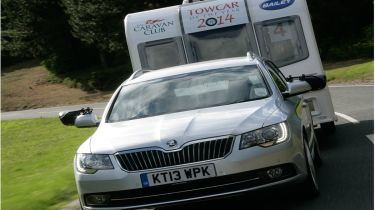 After three days of deliberation and more than 800 miles of action with The Caravan Club at Millbrook, we can reveal that our Tow Car of the Year 2014 is the Skoda Superb Estate.
It's a resounding victory for this enormously talented family car. In 2.0-litre TDI Elegance trim, with a DSG gearbox and four-wheel drive, it was ahead of its rivals in terms of value for money, stowage, stability and outright 'caravanability'.
The Superb Estate trounced the opposition with its impeccable towing ability, and bowled our judges over with the confidence and poise it demonstrated around the high-speed bowland the hilly test course.
The 168bhp diesel is beautifully flexible, and its performance barely seems to be affected when hauling a caravan, while the crisp steering and slick auto box were matched only by the Range Rover Autobiography.
But the SUV is over three times more expensive – and our judges were really impressed by the Skoda's value for money, long list of standard kit and limousine-like interior dimensions.
Plus, when you're not towing, the Superb Estate is the perfect family wagon. There's plenty of room for everyone inside and the massive boot is ideal for family clutter or trips to the tip.
Running it won't break the bank, either – for £499, you can get a three-year/30,000-mile service plan, while official economy of 49.6mpg is pretty respectable for such a large car. All these ingredients make the big Skoda a brilliant tow car, and after a break of three years, it deserves to reclaim the overall crown.