Skoda Yeti Laurin & Klement review
Flagship edition of the Yeti adds plenty of kit, but it comes at a price
The amount of standard kit on offer here makes the Yeti L&K very appealing. But it's too expensive – an Elegance Yeti is well equipped, yet costs £2,000 less. We say save your money – any Yeti will drive just as well.
We're already big fans of the Skoda Yeti and, after it was crowned the best car to own in our 2014 Driver Power survey, how do you improve it?
Well, Skoda thinks the new Yeti Outdoor Laurin & Klement is the answer. It's a new flagship model, where luxury is the order of the day. Standard kit on the plush range-topper includes all-wheel drive, 17-inch alloy wheels, a DSG gearbox, a full leather interior, sat-nav and dual-zone air-con, and much more.
All of this comes at a price, however – £27,840 to be precise. Add the options fitted to our test car, and that figure increases to an eye-watering £30,040. That's a lot for a value-for-money brand.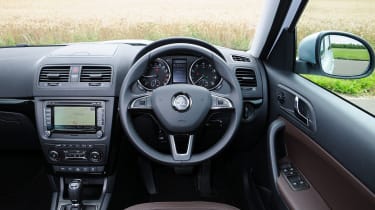 Nevertheless, the Yeti remains one of the most capable crossovers on the market. The 168bhp 2.0-litre turbodiesel delivers strong acceleration even from low revs, while the permanent all-wheel drive provides lots of grip.
The six-speed DSG auto gearbox provides effortless changes, and the suspension gives a cushioned ride. Fuel efficiency is not all that impressive, though, with claimed figures of just 44.8mpg and CO2 emissions of 164g/km.