Skoda Yeti Monte Carlo review
Skoda Yeti Monte Carlo crossover adds appeal with stylish special edition
If you want bundles of practicality, a strong performer and all-wheel drive, the Skoda Yeti Monte Carlo offers the lot with little compromise. The drawback is that, at £24,390, it looks expensive for a value brand. If you want to save some cash without having to sacrifice too much, a lesser-powered Yeti 4x4 SE Business is just as capable and costs around £2,500 less.
Value for money and practicality are two things that are heavily embroidered into Skoda's ethos. However, new special-edition Monte Carlo models play on another side to the brand that many won't know about.
The new Yeti Monte Carlo is a tribute to 113 years of Skoda's involvement with the Monte Carlo rally. Based on a standard SE, it comes only with the 168bhp 2.0-litre turbodiesel and all-wheel drive. There's no power hike, but the engine is already the most potent available, so there's some genuine performance to match its sporty look.
Gloss-black detailing on the roof, grille, rear diffuser and mirrors plus 17-inch alloys are the only exterior changes. Inside, however, the Yeti is as practical as ever, with a 416-litre boot and rear bench wide enough for three.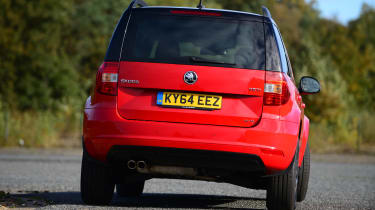 Yet the cabin itself is starting to look tired, so new sports seats, a perforated leather wheel and fake carbon-fibre trim have been introduced. They certainly liven things up, but Skoda's obviously simply trying to mask the ageing design.
Don't let the Monte Carlo's lack of mechanical changes put you off, as the Yeti's already one of the best crossovers on and off-road. While the diesel's always been a little coarse, once into its stride it's a gutsy performer with strong in-gear pace thanks to 350Nm of torque and a wide spread of power.
AWD gives a sense of real stability; with chunky tyres and SUV-like ground clearance, it can easily deal with tough off-road terrain. The ride can get choppy over ruts, but it's mainly comfortable and sure-footed thanks to precise steering.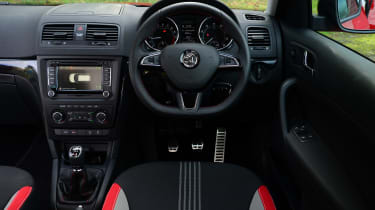 As standard the four-cylinder engine comes paired with a six-speed manual gearbox, but for an extra £1,100 you can have a six-speed DSG automatic. It's good value for such a slick, accurate transmission, but the manual option is very well engineered and more involving. Plus, it's better on fuel and quicker, with nearly 50mpg claimed and a 0-62mph time of 8.4 seconds.