Skoda Yeti - best crossovers
The Yeti has been around for a while, but it's still an attractive and sporty handling crossover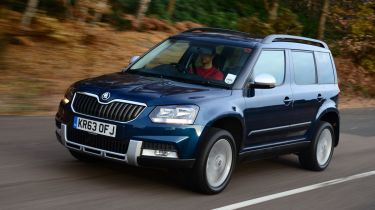 The Skoda Yeti is a formidable crossover contender. Owners rave about it – it topped our Driver Power satisfaction survey for two years, so it's clearly not only reliable but a joy to live with. It's easy to see why – the Tonka toy looks hide the chunky dimensions well, plus you get a high-quality interior and a great choice of engines at a brilliant-value price.
The Skoda Yeti engine range has something to suit almost any budget. It starts with the fantastic 1.2 TSI petrol, and although that seems too small for a large family crossover such as the Yeti, it's actually a great performer that's more than up to the task of hauling the car around. The 4x4 models still offer the kind of off-roading ability that would embarrass an SUV twice this size.
The boxy lines mean the Skoda has lots of cabin space, even though its wheelbase quite short. The large, flat tailgate opens to reveal a 416-litre boot. While that's smaller than the Suzuki SX4 S-Cross, it's still only 14 litres behind, and the tall roofline means you have 1,580 litres of space when the back seats are folded.
You don't get a completely flat load floor, but you can easily achieve this – and free up another 180 litres of luggage space – by removing the back seats completely, which liberates 1,760 litres of capacity.The heavy seats are fiddly to release and cumbersome to move around, but they give the Yeti a clear advantage in terms of practicality over its rivals.