Ssangyong Korando SE - under £16,000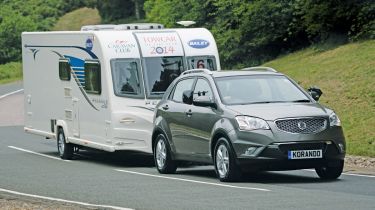 Three cars were fighting it out in this category, but our judges said picking a winner was a clear and easy decision – as the SsangYong Korando SE stood out. The compact SUV surprised everyone with its composure and poise when hitched to the Bailey Pegasus GT65 Verona.
It scored highly with its ability to haul the caravan around the high-speed track with gusto, as its 2.0-litre diesel engine has all the power you need to cruise at 60mph. But it was the SUV's rock-solid stability that got the biggest thumbs up.
The Korando suffers a fair amount of body roll, but the fingertip-light steering makes it a breeze to manoeuvre. And although the gearchange feels notchy, the ratios are well spacedand the Korando had no trouble pulling the caravan up the 14 per cent incline on the hill start test. Inside, there's plenty of head and legroom, while the driver's seat offers loads of adjustment and the steering wheel moves for height and reach.
Better still, the dashboard is logically laid out – although the low-rent plastics aren't up to the standards of some mainstream rivals. But you won't be disappointed with the boot space, as there's a huge 486-litre capacity. Our SE car also gets a lot of standard kit, including hill-start assist, parking sensors, air-conditioning, iPod connection and cruise control. CO2 emissions of 157g/km leave a lot to be desired, but the sub-£15,000 price tag and hefty 2,000kg towing capacity more than compensate – and help the Korando to a deserved win.