SsangYong Korando vs Skoda Karoq
Once a left-field choice, the new SsangYong Korando has mainstream competitors such as the Skoda Karoq in its sights
SsangYong is a brand making great strides when it comes to development. Its cars were once cheap and cheerful, but left-field alternatives to the norm that were known for their reliability and long warranties. However, in what seems like the blink of an eye, the Korean manufacturer has forced rival brands to sit up and take note.
That's exactly what we did at Auto Express, too, when we championed the SsangYong Tivoli small SUV. It didn't lose its affordability, while the new model deserved its praise on merit. Now it's time for SsangYong to go one step further, with its larger Korando.
This is an all-new mid-size SUV with designs on the best cars in this family-focused class, such as the Skoda Karoq it's taking on here. That's because the chassis (all-new for the SsangYong), advanced infotainment and strong value proposition are all points Skoda prides itself on too. So how close can the Korando get to the Karoq? Let's find out. 
SsangYong Korando
| | |
| --- | --- |
| Model: | SsangYong Korando 1.6 Diesel Auto 4x4 Ultimate |
| Price:  | £31,995 |
| Engine:  | 1.6-litre 4cyl turbodiesel, 134bhp  |
| 0-60mph:  | 11.4 seconds |
| Test economy:  | 41.4mpg/9.1mpl  |
| CO2:  | 170g/km   |
| Annual road tax:  | £145 |
SsangYong says its fourth-generation Korando SUV is 'all-new'. While much of it is, the 1.6-litre diesel engine we're testing is an updated motor, linked to an automatic four-wheel-drive powertrain in top-spec Ultimate trim, which costs £31,995. A lot for a SsangYong? We'll see.
Design & engineering
Arguably the biggest leap the manufacturer has made with its most recent products comes with the design, and the Korando continues this theme. It's definitely a step in the right direction for SsangYong.
Given the way SUV buyers use their cars, improving the infotainment offering for this Korando is a big draw, too. Check out our full review of the in-car tech on Page 50, but the big news is that in top-spec Ultimate trim you get a nine-inch touchscreen with great smartphone connectivity, sat-nav, connected services and a 10.25-inch fully digital dashboard. This is an option on the Skoda.
Otherwise the two models are well matched for equipment. The Korando features climate and cruise control, heated leather seats, front and rear parking sensors and a rear-view camera, some good safety tech, a powered tailgate, LED lights and keyless operation.
While it's £1,210 more expensive than the Skoda, there are a few points that are optional on the Karoq, such as a digital dash and full leather trim.
But the Korando also musters less power and torque from its 1.6-litre turbodiesel engine than the Skoda does from its larger 2.0 TDI unit. The Korean car offers 134bhp and 324Nm, driving all four wheels through a six-speed conventional automatic gearbox.
Suspension is by MacPherson struts at the front and a multi-link set-up at the rear – due to the four-wheel-drive system – which matches the Karoq. Adaptive dampers aren't available.
The price is further thrown into question once you climb inside. Despite the Korando's interior coming loaded with kit, the quality isn't on the same level as in the Karoq. There are more hard, shiny surfaces and while the cabin is well built, it doesn't feel as soft or as welcoming.
Driving
While SsangYong has moved on in many areas, its powertrains aren't one of them. The 1.6 diesel engine in the Korando sounds coarse and doesn't feel as quick as its on-paper figures suggest. Part of that sluggishness is down to the six-speed automatic transmission, too. It's slow to respond and to shift, although it is at least smooth when changing up.
Partnership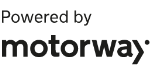 Need to sell your car?
Find your best offer from over 5,000+ dealers. It's that easy.
The slow gearchanges combined with the lethargic power delivery meant the Korando wasn't that fast on test, taking 11.4 seconds to accelerate from 0-60mph. Its in-gear times were adequate but not as quick as the Skoda, which has an extra gear compared with the Korando's six ratios.
However, there's enough acceleration and nothing more, so as long as you don't stretch the SsangYong, it's actually fine to drive.  That's because the ride is acceptable, too. While it's not quite as comfortable or as forgiving as the Skoda's, the suspension set-up takes most things in its stride on the whole. It does shudder and shake over sharper ridges in the road and smacks into deeper potholes, but not too badly. There's enough comfort that it won't be a big issue. The lack of engine refinement is more of a problem.
The looser set-up also means the SsangYong rolls quite a bit in corners, so at higher speeds it doesn't feel tied down all that well. Like the engine, it's best to adopt a more leisurely pace so you don't uncover the steering's deficiencies either; it's slower than the Skoda's so needs working more, but this makes the Korando good off-road, which is its ace card.
Practicality
By class standards the Korando's 551-litre boot is a strong offering, but the Karoq offers up to 588 litres. You do get a powered tailgate as standard, though.
The SsangYong also provides a good level of space inside. The body and the wheelbase are slightly longer than the Skoda's, so legroom isn't a problem. Neither is headroom, so adults will be fine in the back. But it's a quality issue that's more noticeable, with the rear of the interior feeling even more sparse than the front – and the Skoda's cabin.
Ownership
While SsangYong has tried to move upmarket and appeal to a wider group of buyers, it hasn't forgotten what its foundations in the UK are built upon, so the firm still gives a strong seven-year/150,000-mile warranty.
Although the brand didn't feature in our Driver Power 2019 owner satisfaction survey, the warranty is a vote of confidence from the company in the reliability of its products and should give owners peace of mind – just like the safety technology.
Autonomous braking, lane-departure warning with keep assist and automatic full beam LED lights are all fitted as standard. The Korando has just scored a full five-star Euro NCAP safety rating.
Running costs
SsangYong still has some way to go compared with Skoda when it comes to image. Our experts predict the high-spec Korando Ultimate will only hold on to 31.7 per cent of its original price after three years or 36,000 miles. This means it'll be worth just £10,149, shedding £21,846.
The Skoda puts clear ground between the two cars, with an estimated residual value of 47 per cent. The Karoq will lose £14,475 and be worth £16,310 after the same period. But if you're buying on finance (see right) or will be running one of these two models as a company car, the residual figures will matter less.
Testers' notes: "Driving modes include winter and off-road settings with an option to lock the four-wheel-drive system's centre differential, so the Korando should be more capable away from the tarmac than the Skoda."
Skoda Karoq
| | |
| --- | --- |
| Model: | Skoda Karoq 2.0 TDI 150 DSG 4x4 SE L |
| Price:  | £30,785 |
| Engine:  | 2.0-litre 4cyl turbodiesel, 148bhp  |
| 0-60mph:  | 8.4 seconds |
| Test economy:  | 45.5mpg/10.0mpl  |
| CO2:  | 142g/km |
| Annual road tax:  | £145 |
The Karoq is a class leader. Skoda's mid-size SUV is our favourite car in this sector, so it represents what the SsangYong has to live with to cut it in this class. We're testing a 2.0 TDI 150 DSG 4x4 in SE L trim, which costs £30,785.
Design & engineering
SUVs are all about style, which is why SsangYong has really improved the look of its new car. We'll leave it up to you whether you like the styling of the Korando or not, but there's no denying that the design of the South Korean newcomer is closer to class leaders like the Karoq.
While the Skoda's shape is obviously boxy, the Czech SUV has a reserved look and some neat creases that clothe the engineering underneath.
The Karoq sits on the brand's MQB platform, which is a versatile architecture that underpins everything from SUVs like this to sports cars within the Volkswagen Group, such as the Audi TT.
Here there are MacPherson struts for the suspension at the front and a multi-link axle at the rear to enable four-wheel drive, which is the same set-up as the SsangYong.
The Skoda's wheels are driven by a 2.0-litre TDI unit producing 148bhp and 340Nm of torque – 14bhp and 16Nm more than the Korando respectively in a 168kg lighter car – while the engine is linked to a seven-speed dual-clutch automatic gearbox.
Despite its lower list price, the Skoda is obviously higher-quality than the SsangYong inside. The plastics used are softer and more luxurious, even though this is a relative term for a mainstream model like this. Things feel more robust in the cabin, but also more expensive.
In SE L trim the equipment list matches the Korando's, with parking sensors and a rear-view camera, cruise and climate control, heated seats, LED lights, keyless operation, nav and decent connectivity. The only things the Karoq misses out on are full-leather trim, a digital dash and some safety features, but these are all available as options. 
Driving
Thanks to the MQB architecture the Karoq is a predictable package from behind the wheel. That means it's characterised by its refinement, stability and comfort rather than any great sense of dynamism, yet the Karoq is still better to drive than the Korando.
The steering is light, there's enough grip and decent body control, so the car feels more composed than the SsangYong. However, this doesn't come at the expense of ride comfort.
The suspension control you feel when cornering faster in the Czech model also means the dampers absorb bumps fairly well. You notice them, but not quite as intrusively as in the SsangYong. The Karoq rides well on bumpy B-roads and settles down further still on smoother A-roads and motorways.
It's also more refined than the Korando, with less intrusive diesel engine rumble obvious when you put your foot down, even though both cars do drone more at higher revs. The Skoda's seven-speed dual-clutch gearbox is snappier than the SsangYong's six-speed auto, too. It's smooth enough in auto mode and the shifts are sharper in manual, but away from a standstill and when manoeuvring, the Skoda is jerkier than the SsangYong's conventional auto.
Practicality
In SE L trim the Karoq comes with Skoda's VarioFlex seating system. This means you can slide the rear bench forwards or backwards to create either more rear legroom or a bigger boot space.
The Skoda offers up to 588 litres of boot capacity, which is 37 litres more than the Korando's load bay. That advantage grows significantly with the rear seats down, though, because 1,810 litres in the Skoda plays 1,248 litres in the SsangYong.
Room inside is roughly equal, and you'll not feel cramped in either car. Both are spacious and, with front and rear parking sensors, plus a reversing camera, you shouldn't find either too difficult to park.
Skoda's Simply Clever features make this a more practical, usable model than the Korando, too, as highlighted in our Testers' notes below. It's clear Skoda's designers have thought about how a family will use an SUV like the Karoq.
Ownership
While Skoda's warranty isn't quite as strong as SsangYong's, at three years, the Czech brand's performance in our Driver Power owner satisfaction is always good, and the result was no different in 2019, when the firm finished fifth overall. Not enough SsangYong owners responded for the brand to be ranked.
Standard safety tech is slightly lacking compared with the SsangYong, too, because lane-keep assist and blind-spot warning are part of a £920 option pack. Still, autonomous braking and seven airbags are standard for a five-star Euro NCAP safety rating.
Running costs
On paper the Karoq is much more efficient than the SsangYong, emitting 142g/km of CO2 compared with 170g/km for the Korando. It means the cars sit in the 36 and 37 per cent Benefit-in-Kind (BiK) tax brackets respectively, so lower-rate earner will shell out £2,174 and £2,300 a year in company car tax costs.
The Skoda was also the more fuel-efficient of the two competitors on test, returning 45.5mpg for an annual cost of £1,581 at the pumps. The SsangYong still showed respectable fuel economy of 41.4mpg during our evaluation, however, which means a yearly diesel bill of £1,738.
Testers' notes: "The Karoq's interior is a brilliantly thoughtful place. There are storage cubbies on top of the dash, and an LED torch in the boot, while storage nets and bottle holders mean there are many versatile points." 
Verdict
First place: Skoda Karoq
The Karoq shows why it's a class leader. It's cheaper than the Korando, offers better quality, gets basically as much kit, yet is much more refined, comfortable and noticeably better to drive. The price saving means you can add the few extra bits to match up to the Korando's kit list, too. The Karoq is a sublime all-rounder, so there's no shame for SsangYong in losing to a car that is this talented. 
Second place: SsangYong Korando
The Korando is another step in the right direction for SsangYong. That it can even be considered in the same breath as the Skoda Karoq is an achievement. It's practical, spacious and the tech is strong – all key points to buyers in this class. Yet the Korando is more expensive, less economical, not as refined and not as good to drive, so the SsangYong still falls short in a few vital areas.
Other options in this category... 
Peugeot 3008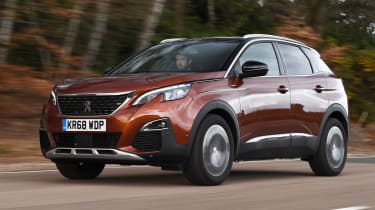 Model: Peugeot 3008 1.5 HDi 130 EAT8 AllurePrice: £30,885Engine: 1.5-litre 4cyl, 128bhp
The 3008 has the classiest cabin in the class, with great in-car tech and a comparable level of kit in Allure trim at a similar price. The BlueHDi 130 diesel engine and auto box are punchy and smooth respectively. The only downside is 4x4 isn't offered. 
SEAT Ateca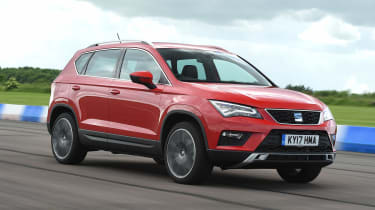 Model: SEAT Ateca 2.0 TDI 150 4x4 DSG SE TechPrice: £30,760Engine: 2.0-litre 4cyl, 148bhp
SEAT's Ateca is based on the same MQB underpinnings as the Karoq and shares its 148bhp 2.0 TDI engine, seven-speed DSG box and four-wheel- drive system. The Skoda is more rational, the SEAT sportier and a little firmer and more direct to drive if this is what you're after.
Figures
| | | |
| --- | --- | --- |
|   | SsangYong Korando 1.6 Diesel Auto 4x4 Ultimate | Skoda Karoq 2.0 TDI 150 DSG 4x4 SE L |
| On the road price/total as tested | £30,785/£30,785 | £31,995/£32,545 |
| Residual value (after 3yrs/36,000) | £14,475/47.0% | £10,149/31.7% |
| Depreciation | £16,310 | £21,846 |
| Annual tax liability std/higher rate | £2,174/£4,349 | £2,300/£4,600 |
| Annual fuel cost (12k/20k miles) | £1,581/£2,636 | £1,738/£2,897 |
| Insurance group/VED | 15/£145 | 32/£145 |
| Cost of 1st/2nd/3rd service | £342 (2 years) | TBC |
|   |   |   |
| Length/wheelbase | 4,382/2,630mm | 4,450/2,675mm |
| Height/width | 1,607/1,841mm | 1,629/1,870mm |
| Engine | 4cyl in-line/1,968cc | 4cyl in-line/1,597cc |
| Peak power/revs  | 148/3,500bhp/rpm | 134/4,000bhp/rpm |
| Peak torque/revs  | 340/1,750Nm/rpm | 324/1,500 Nm/rpm |
| Transmission  | 7-speed DSG/4wd | 6-speed auto/4wd |
| Fuel tank capacity/spare wheel | 55 litres/£150 | 47 litres/repair kit |
| Boot capacity (seats up/down) | 588/1,810 litres | 551/1,248 litres |
| Kerbweight/payload/towing weight | 1,532/641/2,100kg | 1,700/550kg/2,000kg |
| Turning circle | 10.2 metres | N/A |
| Basic warranty (miles)/recovery | 3yrs (60,000)/3yrs | 7yrs (150,000)/1yr |
| Driver Power manufacturer/dealer pos. | 5th/10th | N/A/N/A |
| NCAP: Adult/child/ped./assist/stars | 93/79/73/58/5 | 88/85/68/74/5 |
|   |   |   |
| 0-60/30-70mph | 8.4/8.5 secs | 11.4/12.4 secs |
| 30-50mph in 3rd/4th | 3.3/5.1 secs | 4.0/5.1 secs |
| 50-70mph in 5th/6th/7th | 7.6/11.6 secs/N/A | 8.7/12.4 secs/N/A |
| Top speed/rpm at 70mph  | 119mph/1,600rpm | 112mph/2,100rpm |
| Braking 70-0/60-0/30-0mph  | 49.7/36.8/9.6m | 54.8/34.1/9.7m |
| Auto Express econ. (mpg/mpl)/range | 45.5/10.0/550 miles | 41.4/9.1/428 miles |
| WLTP combined  | 40.9-42.8mpg | 43.5mpg |
| WLTP combined  | 9.0-9.4mpl | 9.6mpl |
| Actual/claimed CO2/tax bracket | 166/142g/km/36% | 183/170g/km/37% |
|   |   |   |
| Airbags/Isofix/park sensors/camera | Seven/yes/yes/yes | Six/yes/yes/yes |
| Auto box/lane-keep/blindspot/AEB | Yes/£920*/£920*/yes | Yes/yes/no/yes |
| Clim./cruise ctrl/leather/heated seats | Yes/yes/£260/yes | Yes/yes/yes/yes |
| Met paint/LEDs/keyless/pwr tailgate | £595/yes/yes/£500 | £550/yes/yes/yes |
| Nav/digi dash/DAB/connected services | Yes/£455/yes/yes | Yes/yes/yes/yes |
| Wireless charge/CarPlay/Android Auto | No/yes/yes | No/yes/yes |