Tesla firmware 8.1 update introduces hidden sketchpad
Not an early April Fools' - latest Tesla over-the-air update features an Easter egg to turn motorists into Monet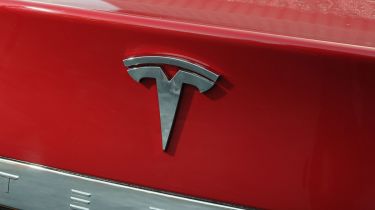 Tesla has just issued firmware 8.1, the latest over-the-air update for its cars introducing important updates for Autopilot 2.0.
The update continues to patch in new autonomous driving features and abilities, following the introduction of Autopilot 2.0 hardware last October. With firmware 8.1, Autopilot now works at speeds up to 80mph, while Tesla has also updated Auto Lane Change and has re-introduced the Summon feature – previously only available on cars with first generation Autopilot equipment.
• Best electric cars on sale 2017
However, buried deep within the update, Tesla has added an Easter egg that will allow owners to let loose their creative side.
Tesla CEO Elon Musk once again used Twitter to reveal the new secret feature – tapping the 'T' logo on the large, portrait display on the centre console three times now brings up a large, touchscreen sketchpad.
Predictably, some Tesla owners have been sharing their masterpieces on Twitter, and artworks made on the sketchpad can be submitted to Tesla for critique.
• Tesla Autopilot: everything you need to know
While it sounds like an early April fools' joke, the sketchpad isn't out of the ordinary for Tesla, and Easter eggs are regularly bundled in with firmware updates. Previous hidden features have included references to the Bond film The Spy Who Loved Me, as well as the classic racing game Mario Kart.
Is the Tesla sketchpad harmless fun? Let us know your thoughts in the comments.