Tesla Model S Electric GT race car does 0-60mph in 2s
Race prepared Model S saloon gets uprated electric motor for 778bhp and claimed two-second 0-60mph dash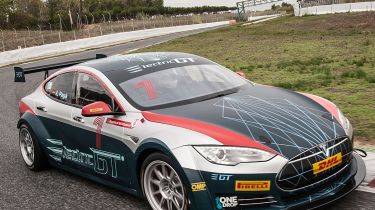 Tesla has just released a new "Ludicrous Plus" mode for Model S and Model X P100D owners, unlocking around 33 extra bhp and a promised 0-60mph time of 2.4 seconds. However, a new Tesla Model S with an even faster 0-60 dash in its locker has been revealed at this year's Autosport International Show.
The Electric GT Championship – the first electric GT race series on the planet – has revealed in full the car its drivers will race in the series' inaugural season in 2017.
It's a modified Tesla Model S P100D, making use of a tweaked 585kW electric motor good for 778bhp. The championship was originally set to use the 85kWh version of the Model S with light alterations, but this version 2.0 racer gets Tesla's biggest battery pack plus a whole host of race car trimmings.
Alongside the power hike around 500kg has been trimmed from the standard car's curb weight. Aerodynamic additions such as a front splitter and wide rear spoiler create the racecar look, while flared wheel arches contain a wider track.
• Best executive cars on sale 2017
The changes dramatically slash the car's acceleration times. 0-60mph is done in a claimed two seconds flat, while 0-62mph will take 2.1 seconds in the Tesla racer.
The Electric GT championship was announced in March last year, and while a firm 2017 calendar has yet to appear, championship organisers promise ten teams, 20 drivers and seven race weekends for the inaugural season.
Will the Electric GT Championship take off? Let us know your thoughts in the comments.