Toyota announces UK scrappage scheme with trade-in savings up to £4k
Motorists with any vehicle older than seven years can receive up to £4,000 towards a new Toyota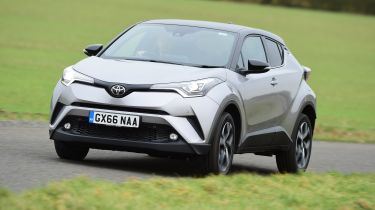 Toyota has become the latest manufacturer to establish a scrappage scheme in the UK, offering savings up to £4,000 to drivers who trade-in their old car.
Running from 1 September until the end of the year, the scheme is open to any vehicle more than seven years old which has been owned by the current owner for more than six months.
• UK diesel scrappage scheme: the key facts
In return, Toyota is offering at least £1,000 towards new models like the CH-R, and £2,000 on cars like the Prius and Hilux. Those who opt for larger vehicles like the RAV4 can enjoy savings up to £3,500, while anyone who opts for the latest Land Cruiser will be handed a £4,000 discount.
All vehicles exchanged will be scrapped and processed at authorized treatment facilities run by Autogreen.
The full details of Toyota's scrappage scheme are listed in the table below.
| | |
| --- | --- |
| Model | Scrappage saving |
| Aygo | £2,000 |
| Yaris and Yaris Hybrid | £2,500 |
| Auris and Auris Hybrid | £3,500 |
| Verso | £3,500 |
| RAV4 and RAV4 Hybrid | £3,500 |
| C-HR and CH-R Hybrid | £1,000 |
| Avensis | £3,500 |
| Prius | £2,000 |
| GT86 | £2,000 |
| Land Cruiser | £4,000 |
| Hilux | £2,000 |
| Proace | £2,000 |
Paul Van der Burgh, Toyota GB President and Managing Director, said: "Our scrappage scheme is a win-win solution. Motorists can dispose of their older vehicles and have access to our cleaner, more efficient model range.
"Our world-leading petrol-electric hybrids will be an ideal choice, helping make a genuine contribution to protecting air quality – a crucial concern for today's customers.
"What's more, everyone who takes up our scrappage scheme can be assured their vehicle will be disposed of in an environmentally responsible fashion that maximises recycling opportunities."
What do you think of the latest trend by car manufacturers to introduce scrappage schemes in the UK? Tell us in the comments below...