Toyota to build new hybrid model for Suzuki in UK
Toyota will build a new hybrid model for Suzuki in the UK following the two brands agreeing on the terms of their future collaboration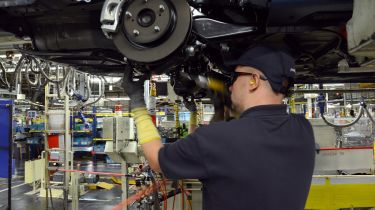 Toyota will build a new hybrid car for Suzuki at its UK factory, the two brands have revealed while announcing their agreement on how they will collaborate in future.
The firms have been working on a memorandum of understanding since February 2017 and it has now been agreed that Toyota will supply its hybrid system to Suzuki on a global scale.
• Hundreds of Nissan Sunderland jobs at risk from shift cuts
Production of a new Corolla-based hybrid Suzuki model will begin in late 2020 at Toyota's Burnaston factory in Derbyshire, while the powertrains will be built at the firm's Deeside engine plant.
Although the move will not create any more jobs or investment for the UK automotive industry, it should be a welcome vote of confidence for a sector that has faced a number of difficulties recently, including job cuts and factory closures.
The new model will be one of two Toyota-built Suzukis coming to Europe, with plans for one based on the Corolla estate and another on the RAV4 platform.
Toyota will also be adopting newly developed Suzuki powertrains for use in compact vehicles. These engines will be built with the support of Denso and Toyota at the latter's factory in Poland.
• BMW eyes up moving MINI production abroad
In addition, the two manufacturers will be collaborating on a number of different projects specific to Africa and India.
Akio Toyoda, president of Toyota, said he hoped the agreement would allow for the "wider use of hybrid technologies, not only in India and Europe, but around the world", as well as help give Toyota "the competitive edge we will need to survive this once-in-a-century period of profound transformation".
Meanwhile, Suzuki chairman Osamu Suzuki said the firm appreciated the "kind offer" from Toyota to let it use its hybrid technology, adding: "We will continue our utmost efforts."
Is this finally some good news for the UK automotive market? Let us know your thoughts in the comments below...