"Toyota brings motorsport back to the showroom"
With a lack of baby hot hatchbacks on the market, deputy editor John McIlroy can't wait for the Toyota GR Yaris to arrive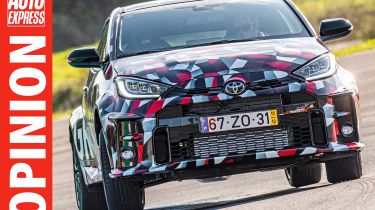 There was a time, about 25 years ago, when cars like the forthcoming Toyota GR Yaris were relatively common. Motorsport rules required manufacturers to make a certain number of hot production cars before they could enter competition. So driving enthusiasts could choose between the likes of the Lancia Delta Integrale, the Mitsubishi Lancer Evo, the Subaru Impreza STi and the Ford Escort Cosworth.
These days, though, there's no obligation to make a homologation special – unless, as in the case of Toyota, you're absolutely desperate to eke out every performance advantage possible. And at the same time, it's becoming harder than ever to find an affordable baby hot hatchback. Ford Fiesta ST aside, there are precious few credible options. Even the Renaultsport Clio, a UK favourite, is unlikely to return for the latest generation.
• Best hot hatchbacks on sale right now
So into all of this comes Toyota, with a car that appears, through hearsay and leaked information, to be a hot supermini like no other. It's four-wheel drive, for starters. And about as powerful as a hot hatch from the class above. Auto Express broke the news of this car's development more than a year ago and yet, as the details come out, it's even wilder than we'd imagined.
It is also likely to be far more expensive than a Fiesta ST – perhaps double the price. And yet it promises to be a fascinating arrival – a whole new type of hot hatchback (not to mention a car that could spur Toyota's rally rival Hyundai into something special with its i20 N).
In recent times, Toyota has built on its firmly middle-of-the-road reputation by becoming a champion for electrification and fuel efficiency. But its performance offerings – the old Yaris GRMN and the Supra – haven't quite delivered on Akio Toyoda's promise to make cars "fun to drive, again". The very early signs are that the GR Yaris could be the car to address that. And if that's the case, then it's a 2020 debut that we should all celebrate.
Do you think the new Toyota GR Yaris will be a success? Let us know your thoughts below...