Toyota Aygo 3 door review
Stylish Toyota Aygo 3 door, like the 5 door model, falls short of class's best
The Toyota Aygo 3 door has plenty of showroom appeal, and for some buyers that will be enough. But it's cramped, and once you tot up the options it no longer seems good value when compared with the well equipped Hyundai i10.
Of the Toyota Aygo, Citroen C1 and Peugeot 108 city car trio, only the Aygo isn't offered with the more powerful 81bhp 1.2-litre engine. So are its quirky personalisation features enough to make it stand out?
If you're keen to keep the purchase price of the Aygo to a minimum, a three-door version of the supermini is also available. It costs £400 less than the five-door model spec for spec but it does make access to the rear seats a little tight. However, on the flip side you do get a more equally proportioned car, with a design that doesn't look forced or contrived.
The three models are mechanically identical, but there's no doubt that the Toyota's got the eye-catching exterior to help its chances of success. Finished in white with matching alloys (£499), as well as a silver finish to the X motif and rear bumper (£395), it certainly makes itself known in the busy city car class.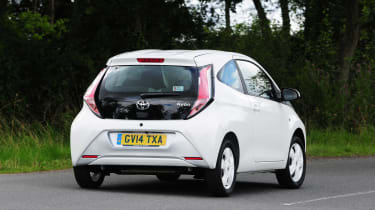 Yet while style and image are both important to buyers, so too are the car's practical capabilities and performance.Unfortunately, this is where the Aygo falls short compared to rivals like the Hyundai i10. While you can save £400 by opting for a three-door, like our test car, it makes accessing the rear seats awkward. Passengers in the back will be cramped and the sharply raked rear window makes it feel claustrophobic.
The 69bhp 1.0-litre three-cylinder is a development of the engine from the old Aygo, so power delivery remains rather gutless. You have to accelerate hard to get up to speed, and by doing so, you can't hope to match the claimed 68.9mpg fuel economy. Still, the Aygo is surprisingly refined for a car of this size.