Toyota Prius - Best family cars 2017
The latest Prius looks divisive, but under the skin it delivers hybrid efficiency and plenty of family-friendly space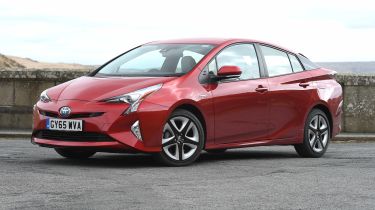 Let's get the obvious out of the way first - the latest Toyota Prius really isn't a looker. In fact, it's a mass of cuts, slashes and creases all going in different directions across various body panels - definitely an acquired taste. But if you can get past the looks, the Prius has real appeal for family buyers. After all, you don't have to look at the car once you're inside it!
From the inside the story is much better. The Prius has a futuristic interior, every bit as wacky as the exterior - but it's good looking and shapely rather than sharp and angular, and is a very relaxing place to be. There's plenty of gadgetry, with LCD screens providing information rather than dials and gauges, while space front and back is ample for a family. There's a huge boot, too.
Toyota's hybrid technology makes for a relaxed and soothing drive, and while it won't set your hair on fire through the corners, the Prius will at least be easy on the wallet with around 70mpg achievable around town.
Best family cars to buy in 2017