Shock departure of Vauxhall boss
Auto Express understands that Vauxhall boss Tim Tozer, who left the company suddenly, did not resign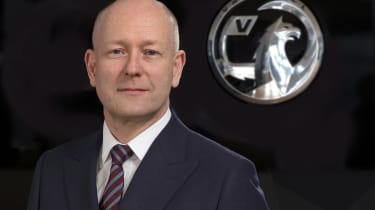 The boss of Vauxhall has left the firm in a sudden departure. Only 24 hours before his departure was announced, Vauxhall's Managing Director and Chairman, Tim Tozer, was helping to launch the firm's vital new Astra model to the media at Ellesmere Port.
In a brief statement, GM announced that Rory Harvey would be taking over as Vauxhall MD and Chairman and that Tim Tozer would be leaving to pursue his career outside GM.
The statement from Peter Kuespert, Vice President of GM Sales and Aftersales in Europe, added: " I would like to thank Tim for the great commitment he showed towards our brand. We are grateful for his hard work and wish him all the best for the future."
Tim Tozer was unavailable for comment and a Vauxhall spokesman said they had nothing further to add to the statement.
But Tozer is not believed to have a new job to go to and the reasons for his departure are unclear. It is understood he did not resign.
Journalists who attended the launch said that Tozer looked relaxed and was confident about the new Astra, and showed no signs of a man about to leave the company.
And at the Frankfurt Motor Show, he appeared alongside the top European executive of Vauxhall's owner General Motors, where he appeared to be a key and happy member of the senior management team.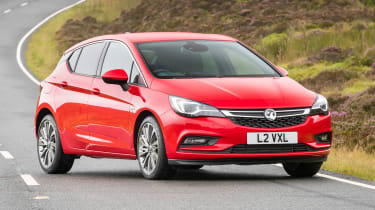 The top job at Vauxhall is one of the most important in the UK motor industry, with the firm second to Ford in the overall sales charts, with factories at Ellesmere Port and Luton that employ over 3,000 people, as well as thousands more at dealerships.
GM's European boss Karl-Thomas Neumann told Auto Express at the Frankfurt show that Vauxhall was crucial to the American car giant.
"Vauxhall is a very strong brand and really important to GM. It is our biggest and most important market in Europe," he said.
Tozer led a solid sales resurgence of Vauxhall in the UK, successfully launching key models like the Mokka, Adam and more recently the new Corsa and Viva.
Tozer was well liked in the Vauxhall business and is a very well respected veteran of the car industry with a proven track record at companies like Rover, Mazda and Mitsubishi, as well as leading major dealer groups in the UK and Europe.
His replacement Rory Harvey is another Brit with a wealth of experience at Vauxhall and Opel, and his last role was as the Executive Director of Sales for Opel Europe.
Tozer's departure is completely unconnected to the emissions scandal that has engulfed Volkswagen and the wider car industry.