Vauxhall Corsa Sting review
Vauxhall Corsa Sting offers some sporty styling without the extra cost from top-spec models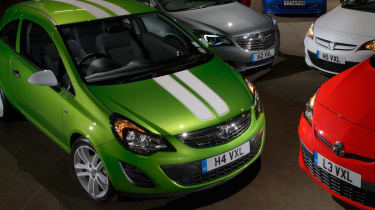 The Vauxhall Corsa Sting is appealing for young drivers thanks to low insurance costs (relatively), but it's outdated now and can't match its rivals for driver engagement or fuel economy.
It's not the most modern supermini around, but the Vauxhall Corsa is still a good choice if you want a no-nonsense, well built supermini that offers decent value and secure handling.
One highlight of the Corsa range is the sheer variety of trims available, and the Corsa Sting offers a bit of sporty style that will appeal to young drivers who have just passed their test.
It's available with 1.0-litre or 1.2 VVT petrol engines, or the trusty 1.3 CDTi diesel. None of these engines are particularly powerful, so they score well for low insurance as well as respectable fuel economy.
Despite feeling its age, the Vauxhall Corsa still has an eye-catching design, and the Sting model adds some sporty touches to the exterior. The 1.0 model gets silver 16-inch alloys, plus silver stripes over the bonnet, roof and tailgate, and silver door mirror caps,. The larger petrol engined 1.2 has while 17-inch wheels and white stripes and mirrors, while the diesel model gets the same as the 1.2 in black.
More reviews for Hatchback
The Corsa Swing is available as a three or five-door, and standard kit is respectable, with electric mirrors and windows, an aux socket and MP3-compatible stereo, central locking and daytime running lights. Even better is that you should be able to haggle a decent discount on the Corsa Swing's list price at a Vauxhall dealer.
The three-door Corsa looks reasonably fresh with its swept back headlamps, a rakish nose and neat detailing, and the Swing updates suit its sporty nature. As a five door, the Vauxhall Corsa looks a bit square although neither are likely to turn many heads.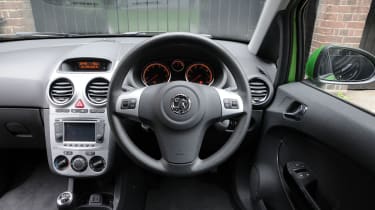 One glaring omission from the Corsa Swing is the lack of air-conditioning, although the Sting (a/c) does have it, as its name suggests.
On the road, lifeless steering, slow responses and average front-end grip mean the Corsa feels a generation behind front runners such as the Ford Fiesta and Suzuki Swift. As the Corsa Swing is based on the S model, it has sporty looks, but it doesn't have the stiffer sports suspension found on SRi and SXi versions, so it's more comfortable as a result. The low-powered engines don't have much power, but that does mean running costs will be reasonable, while the Corsa's comfortable driving position, light controls and compact dimensions ensure it's a stress-free urban runabout.
Another highlight of Corsa ownership is Vauxhall's Lifetime Warranty. If you're the first owner, and keep to Vauxhall's terms and conditions, then you'll have warranty cover that lasts for the lifetime of the car, up to 100,000 miles. Although the Vauxhall Corsa is getting on now, it does have a five-star Euro NCAP crash test result. However, electronic stability control is only available as an expensive option across the range.
The Corsa has a 285-litre boot that increases to 1,100 litreson the five-door, or 1,050 in the three-door model).
Useful extras such as a false boot floor or Vauxhall's clever bicycle rack aren't available on the Sting, but there is a decent amount of head and legroom for rear seat passengers, and the cabin is packed with useful storage
The 1.3 CDTi diesel with Stop/Start technology is an efficient performer, as it returns 85.6mpg and has emissions of 88g/km. However, the Ford Fiesta Econetic and Hyundai i20 Blue are even better. Long 20,000-mile service intervals keep dealer visits to a minimum, and Vauxhall service costs are reasonable. Sadly, depreciation is a killer, and many supermini rivals will be worth more when you come to sell on.