"Winds of change at GM have blown in a brilliant new Corsa"
The new Vauxhall Corsa proves GM is no longer playing catch-up, says editor-in-chief Steve Fowler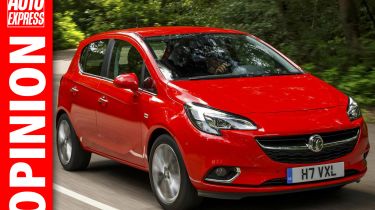 General Motors is a company that describes itself as 'tradition rich', yet the way it's been going about its business in recent years, since its much publicised post-bankruptcy restructure, has been anything but traditional.
Let's start with the management – making Mary Barra CEO and Dan Ammann President was the start of some really bold thinking.
Having ridden up the hill at Goodwood alongside Ammann, I caught up with him again at the recent Paris show. Ammann joined GM's finance team from investment bank Morgan Stanley, but his enthusiasm for the cars and technology is catching. He spoke to me with great passion about GM's new range of engines that show the company isn't only playing catch-up, it's taking a lead – as our drive of the new Vauxhall Corsa shows.
GM is led in Europe by Karl-Thomas Neumann, who joined from VW – a rare jump previously. And when it came to appointing a new MD for Vauxhall, GM again took the unusual step of looking outside and appointed Tim Tozer, with vast experience of Japanese brands and dealers.
So how does that affect you and the Vauxhalls you might buy? Simple: there's a greater focus on what UK customers actually want, rather than the previous Europe-wide one-size-fits-all approach. Witness the decision to revive the Viva name for Vauxhall's city car, rather than use Opel's name. Let's be honest, a Vauxhall Karl just sounds silly.
And so to the Corsa – launching in the UK with Vauxhall badges at the same time the Opel version is being launched on the continent (another rarity), it features special Vauxhall settings to better suit our needs. And it works! Roll on next year's UK-built Vauxhall Astra. On this form, it should be great.
Are you looking forward to the new Vauxhall Corsa? Let us know in the comments below, on Twitter or on Facebook.