Greenpeace VW protest: car ship boarded at Sheerness
A ship carrying Volkswagen cars was boarded by Greenpeace protesters at Sheerness, Kent with more entering the port itself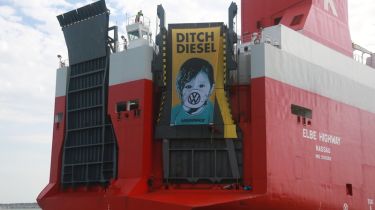 Police have arrested three of the Greenpeace protesters who attempted to disrupt the unloading of VW Group cars at the Port of Sheerness in Kent on Thursday. Two protesters remained on a lighting gantry inside the port overnight with the keys to a number of vehicles.
A ship carrying new Volkswagen Group petrol, diesel and plug-in hybrid became the target of the protest by Greenpeace as it attempted to dock at the port on Thursday morning. 25 protesters climbed aboard the 23,000-tonne ship in an attempt to stop the unloading of the cars it was carrying and demonstrate against the much publicised VW emissions scandal.
The protesters suspended themselves from the ship's 27m high unloading doors, unfurled a 50m square banner showing a girl in an air-pollution mask and said they would remain there until Volkswagen agreed to return the cars to Germany. The diesel-powered ship, the Elbe Highway, was subsequently moved away from the Port of Sheerness to anchor off Margate.
• VW announces diesel scrappage scheme
Police became aware of the protest at the Thames Estuary port shortly before 9am on Thursday morning and attended the scene where they found an additional 41 protesters had scaled the fence and entered secure areas of the port itself where large numbers of new cars are parked awaiting distribution. In a statement, Greenpeace said they were, "attempting to immobilise all the diesel cars by removing their keys."
In its own statement, Volkswagen said: "We are aware of a protest this morning at the Sheerness port in Kent. The ship contains a variety of Volkswagen Group vehicles including petrol, diesel and plug-in hybrid models. The diesel vehicles, which are the subject of the protest meet strict Euro 6 emissions standards."
What do you think of the Greenpeace protest? Let us know in the comments...