VW to 'surprise' customers with fresh new model lines
More body styles, including the possibility of coupe SUVs, are on the way from a 'more bullish' Volkswagen in the coming years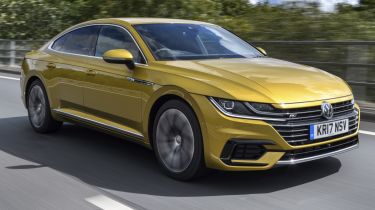 VW will become more daring with the range of models and body styles it puts into production in a bid to strengthen the brand's appeal. 
Speaking at the Beijing Motor Show, VW Sales and Marketing boss Jurgen Stackmann told Auto Express that VW's success in China, which accounts for half of the company's annual sales, has played a vital role in the decision for VW to become more daring with its model lineup. 
"There is a new dimension in Volkswagen; we are being more authoritative and bullish," Stackmann told us. "We are capturing the core segments well; our models are positioned in a way that they are symbols of the segment but there is a lot more playground for us." 
He added: "That's one of the primary roles of China. It's young, and allows us to put more body styles into production that we wouldn't be able to do in Europe alone. You will see a lot from us in the next two years that will surprise you and show a fresh side to the VW brand." 
A shooting brake version of the Arteon is one example; the model will arrive next year with the possibility of a six-cylinder engine. Stackmann also cited the rise of coupe SUVs as "an area we want to explore for the [VW] brand."
VW is also planning more extreme models within its R performance lineup, which is expected to expand to include the T-Roc and Tiguan models.
Would you like to see more daring models from Volkswagen? Let us know below...