Next-gen Volkswagens to get smarter and more comfortable
Volkswagen is working on a host of new technology, including fly-by-wire steering, a driver-facing interior camera and an intelligent chassis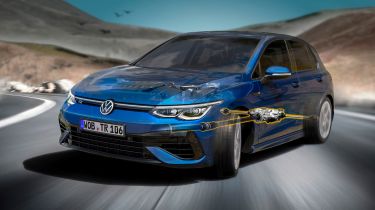 Volkswagen has announced plans to make its next-generation vehicles smarter, safer and more comfortable. The brief was outlined in a recent innovation talk with the brand's head of driving dynamics, Karsten Schebsdat.
The first (and arguably most interesting) development the company has in the works is a new steer-by-wire system. Volkswagen hasn't delved too deeply into the finer details of how it works, but Auto Express understands the system will replace its conventional steering column with a sensor behind the wheel which controls an electric motor on the rack.
The technology would remove the physical connection between the driver and the front wheels. It's as-yet unclear whether the system will feature on both the brand's future combustion cars and electric vehicles, but the prototype vehicle in the company's video clip is an ID.3 – suggesting the system has been earmarked for the brand's EVs.
Volkswagen is also working on a new chassis system which it claims will make its next-generation vehicles more comfortable. And it's not just for EVs, as the technology looks set to appear on a new generation of combustion-powered cars, as the firm is using the current Arteon as a test mule for the technology.
The company hasn't yet confirmed how its new chassis works but, judging by the brand's press material, the system will feature some front-facing sensors to read the road surface and preload the dampers in response to the road conditions, helping to smooth out the ride.
On the safety front, Schebsdat says Volkswagen is considering an interior camera to monitor the driver's sightlines – especially now that semi-autonomous driving functions are getting cleverer and there's more opportunities for the driver to take their eyes off the road. The new steer-by-wire system will also support features like the brand's Travel Assist system.
Volkswagen is also looking to improve the performance of its future EVs – but not just by bolting in bigger batteries. Schebsdat said: "I think the amount of weight that comes into play by the batteries… [it] is very difficult right now to say how much lighter they will be in the future. It's a major contributor to the weight increase in comparison to combustion engined cars.
"On the other hand, we could reduce the weight by using new body techniques so the body of the car could be lighter – we're discussing that. In terms of the performance of the cars, we are definitely working on increasing the performance as well.
"We're discussing right now some hardware like torque splitters and a second electric engine on the rear axle. All that stuff – like torque vectoring – could implement as well a higher performance level than one that we have just reached by the ID.4 GTX. It will be a compromise, I think. But the next generation of electric GTIs, or whatever they will be called, will perform better."
What do you make of Volkswagen's future technologies? Let us know in the comments section below…