Blog: Moscow Motor Show
Our editor-at-large, Mat Watson, on the future of the Russian motor industry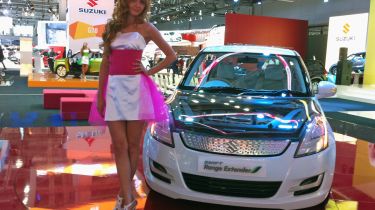 I had planned to write this blog on the crazy cars of the Moscow Motor Show, but the locals haven't really let their hair down when it comes to car design. Rather disappointingly the event is just like any major Western car show: we've seen the new Mazda 6, a fresher Freelander and the revised Audi R8, just as we might have done anywhere on the motor show circuit.
The only obvious difference between the Moscow Motor Show and the likes of the Geneva, Frankfurt and Paris shows is that political correctness clearly hasn't quite reached Russia yet. Never in my long career as a motoring journalist have I seen such a bevy of beauties in one place at one time. Not even during London Fashion week. It's as if the girls have been specifically grown in a certain part of Russia solely for the purpose of drawing camera lenses onto cars which otherwise have little news value.
Take the forthcoming Mitsubishi Outlander: this 4x4 was unveiled six months ago in Geneva and has been seen many times since. As a result you wouldn't expect it to generate much attention. But Mitsubishi had a cunning plan to ensure it would.
The Japanese company employed a bunch of skimpily clad dancers to shake their thing in front of the car. And as one of them gyrated next to the Outlander to some pumping house music, like a moth to a light she attracted anyone with a Y chromosome from far and wide. The result: an audience the Outlander probably wouldn't have got anywhere else.
You may find this behaviour a bit old fashioned, but before we all get our knickers in a twist, there is something far more interesting about the Russian motor industry than the glaring sexism on display in Moscow.
By 2018 the Russian car market will be the biggest in the whole of Europe with an estimated 3.6 million annual sales – nearly double the total UK sales.
This is great news for an industry desperate to find new areas of growth to offset the stagnation in Western Europe. But the problem is that no one in Russia seems to give a hoot about emissions. So while us Western Europeans are all being taxed into buying greener cars, the biggest market in the continent will be free to pollute at will.
An example of how far off the political agenda emissions are in Russia was highlighted by an eye-opening conversation I had with Marcus Osegowitsch, General Director of Volkswagen Russia. He explained the cars they sell are fitted with engines that are effectively detuned to run on the poor quality fuel sold in Russia, which can have an Octane rating as low as 80RON.
He explained that while all EU models meet EuroV emission standards, the Russian ones would only meet EuroIII – so they're only about as clean as cars were in the 1990s.
Marcus described this situation as "ridiculous", which isn't surprising considering Volkswagen is investing billions to meet strict emissions targets set by the European Union. In fact Volkswagen has just announced it will be opening a new engine plant in Kaluga, Russia, to build 1.6-litre petrol engines for the home market. It will go into cars such as the Polo saloon, VW's biggest seller in Russia. However, when it made the announcement about the engine and its plan to build 150,000 a year, there was no mention of CO2.
Normally this is something a manufacturer likes to shout about and is always quoted alongside power and torque figures, which were highlighted for the new 1.6-litre unit.
Normally when you ask a VW representative for a new engine's emissions rating they'll know it off by heart. But when I asked Marcus he 1.6-litre he admitted he didn't know. So he called his head of PR in Russia but he didn't know either. There was a long pause, a bit of shrugging and then Marcus said: "No one has asked that question before. It's not something people care about in Russia."
In the end someone did eventually find out the figure. And in case you're wondering the new 1.6-litre petrol engine in the Polo saloon emits 153g/km CO2. But that isn't the point. The point is that much of the good work being done by car makers in Western Europe to reduce emissions could be undone by the growth of the Russian car market. And don't expect them to suddenly start caring about it either.
If Russia was to suddenly implement CO2 targets it would provide a massive advantage to the likes of VW and other mainstream car makers who are already well ahead with low CO2 technologies.
Russian manufacturers, such as Lada, wouldn't be able to afford the investment required to catch up with the advances in engine emission-reducing tech we've seen in the west. And that brings me back to my original point. It's not only the glaring use of show stand girls that's a bit old fashioned about the Moscow Motor Show, it's the fact that no one seems to care about CO2 emissions...