Get a more fuel-efficient car with Volkswagen engineering
How Volkswagen precision engineering delivers outstanding fuel economy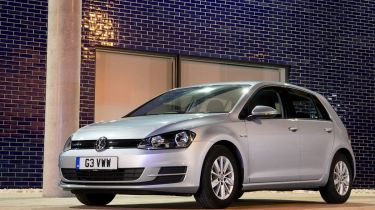 The cost of fuel is a major concern to motorists today so choosing a car that is as economical as possible is of paramount importance. Thankfully you can rely on a Volkswagen to help keep your car running costs to a minimum.
Volkswagen has long been a leader in efficient engine technology – its BlueMotion models are some of the most fuel-efficient production cars in the world. Take the Golf 1.6-litre TDI BlueMotion for example. It can return up to 88.3mpg on a combined cycle and emits just 85g/km of CO2. So not only does it cost very little at the pumps, being in Vehicle Excise Duty band A means it doesn't cost anything in road tax either.
However, some of the fuel-saving knowhow used on the Golf and other Volkswagen BlueMotion models has been extended across other diesel vehicles in the wider Volkswagen range. Known as BlueMotion Technologies these features include Start/Stop, a system that cuts the engine when you come to a temporary standstill and then smoothly reactivates it whenever you're ready to get moving again. It means you don't needlessly burn fuel when you are at the traffic lights or waiting at a junction.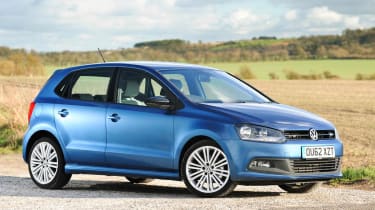 Volkswagen's BlueMotion Technologies also include Battery Regeneration, which recycles the kinetic energy normally lost during braking by storing and then using it for starting the car. The stored energy also reduces the load on the alternator during acceleration.
Low rolling resistance tyres are another fuel-saving feature used on certain Volkswagens. They minimise the friction between the tyre and the road thereby reducing the amount of effort required to propel the car along.
Enhanced aerodynamics is another way in which Volkswagen engineering helps save fuel. Specially designed spoilers, under body panels, sleek grilles, indicators integrated in the headlamps and smaller gaps between body panels all help cut drag and in turn help improve efficiency.
Ultimately though, it's engine technology that has the biggest impact on economy. But it's not just Volkswagen's hugely impressive diesels that can save you pounds at the pumps. Thanks to turbo charging – which provides more power when you need it and uses less fuel when you don't – the modern range of Volkswagen petrol engines are also very economical.
For example the 1.4-litre TSI in the Polo BlueGT provides the performance of a normal 2.0-litre engine yet can return 61.4mpg and emits just 107g/km CO2.
The engine features active cylinder technology (ACT). This technology shuts down two of the four cylinders during low to medium load states, such as when cruising at moderate speeds, to reduce fuel consumption. Volkswagen is the first carmaker to implement this technology on four-cylinder engines. It was previously the preserve of large eight or 12 cylinder engines.
The new 1.4-litre petrol also highlights another way Volkswagen precision engineering has helped improve economy – by reducing weight. The 1.4-litre ACT engine is actually 22kg lighter than its counterpart from the previous Volkswagen engine series. In fact, the use of an ultra-rigid aluminium die-cast crankcase means the new Volkswagen petrol engines are especially light with a maximum weight of just 114kg.
The weight saving doesn't end there, though. Take the Golf MK7 for example. Despite boasting increased safety and enhanced comfort, it is up to 100kg lighter than the Golf MK6 due to a raft of weight saving measures.
These include the use of hot-formed steel for the majority of the parts that give the car its structure and occupant protection. Hot-formed steel is six times stronger than normal steel and yet its use saves up to 12kg from the car's body.
Thanks to its lighter weight, more efficient engines, fuel saving technologies and improved aerodynamics the Golf is up to an incredible 23 per cent more efficient than its predecessor. This means it's not only cheaper to run but kinder to the environment too.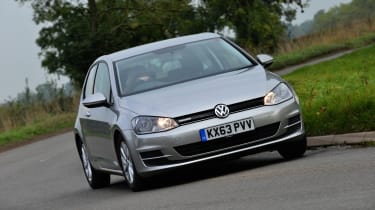 There are numerous other ways Volkswagen precision engineering will help you minimise your environmental impact. These range from efficient manufacturing processes to new technologies, such as AdBlue, which help cut pollution.
AdBlue is an advanced emissions control technology that cleans exhaust gases to beyond the level required by current legislation. It works by injecting a minute amount of a liquid called AdBlue into the exhaust system, this breaks down polluting nitrogen oxides into harmless water vapour and nitrogen gas.
It's this kind of clever thinking which means Volkswagens are not only some of the most economical, but also some of the cleanest cars on the road. And that makes them easy on the planet and your wallet.
Volkswagen Precision Engineering on video
Explore the benefits of Volkswagen engineering with our video series...
• The Volkswagen experience
• Wet and wild in a Volkswagen Beetle Cabriolet
• Shaken but not stirred in a Volkswagen Tiguan
• Safe and sound in a Volkswagen CC
• Watching the weight of the Volkswagen Golf
Find out more about the benefits of Volkswagen engineering here