More than half of UK vans overloaded
Research by Volkswagen reveals over 50% of the UK's 3 million vans are exceeding their payload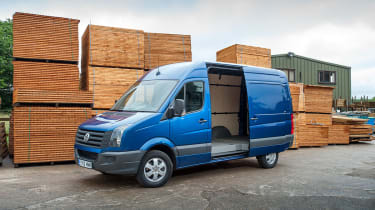 The white van is a British icon, and businesses in the UK operate over 3 million light commercial vehicles on the roads each year. Research by Volkswagen has found that over half of these vans are being driven overloaded - exceeding their payload and potentially causing major problems.
Vans are rated with a maximum GVW (gross vehicle weight) which includes the van itself, driver, any passengers, and finally the remainder which is known as the payload. Exceeding this payload not only puts extra wear and tear on the van's mechanicals, it makes the van non-roadworthy in the eyes of the law, and so can incur heavy fines.
In the event of a crash, should a van be found to be overloaded, the insurance will be potentially invalidated. Even worse, if the GVW exceeds 3.5 tonnes due to overloading then most standard driving licenses aren't authorised to drive it - subject to another hefty fine.
The DVSA stops around 10,000 vans each year as part of targeted checks, and a staggering 93% of these were found to be overloaded. The fines it hands out range from £100 up to £300, and if a van is found overloaded it's immediately immobilised until the problem is rectified.
You can calculate your vans payload with the GVW and the kerb weight. Kerb weight refers to how much the van weighs on its own, and can normally be found in the vehicle handbook - it includes a full tank of petrol but no driver. To find your vans payload simply subtract the kerb weight from the GVW. For example if you have a van with a GVW of 2,200kg and a kerb weight of 1,600kg, you are able to carry 600kg of payload.
Overloading your van - what you need to know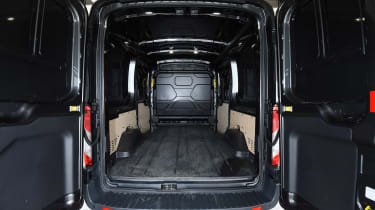 The dangers...
• Overloading can cause excess wear and tear on the vehicle, invalidate insurance, and cause issues with driving licences

• Overloading your van makes it less stable, increases braking distances and can make it dangerous on the road

• Even a van that's not overloaded could be improperly loaded, causing extra stress on one axle

• Overloading could result in a large fine or a court summons
...and how to avoid them
• Know your maximum payload and if in doubt take your vehicle to a weigh bridge 

• Load your vehicle as evenly as possible and secure loads before setting off

• Remember to account for the weight of the driver and passengers

• Choose the right van for the job - it is best to have some payload in reserve
Check out the van reviews on our website for information on a specific van's payload.