VW Group targets global electric car sales top spot, but diesel won't go away soon
Volkswagen Group boss Matthias Muller says "diesel will remain indispensable for the foreseeable future"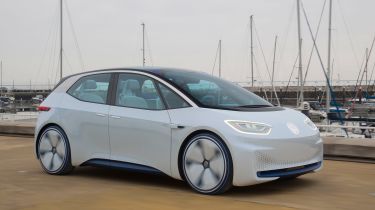 Volkswagen Group boss Matthis Muller has said at the Group's Annual General Meeting that his company "[intends] to be the No. 1 in e-mobility by 2025," but that diesel will not go away as part of that plan.
"Conventional engines will remain indispensable for the foreseeable future," he said at the conference. "The internal combustion engine primarily is part of the solution, not part of the problem."
The VW Group is planning to launch "more than 10 new electrified models by the end of 2018." Muller added that "by 2025, we will be adding over 30 more BEVs."
Last week, Boss Herbert Diess said his brand is targeting 1 million electric car sales by 2025, alongside improvements in profit and productivity.
Announced by Diess at the brand's annual press conference, the intention is for VW to become the "global market leader in e-mobility" within eight years and it seems Tesla is a brand the firm is watching closely. In a response reported by the Financial Times, he said "anything Tesla can do, we can surpass".
• Best electric cars to buy now
Tesla, the California-based electric carmaker with big ambitions, sold fewer than 80,000 units last year - although is targeting the same 1m figure as VW in a shorter time, aiming to hit the mark by 2020. Diess states that "leapfrogging cost advantages" from having an established architecture and economies of scale means that VW can "rein them in".
Volkswagen already has what it called "practical insights into the future of e-mobility" with concept cars such as the I.D., the I.D. Buzz and the I.D. Crozz. All are based on the MEB common electric vehicle platform which will be found beneath the majority of the Group's future battery-powered models.
However, traditional combustion engine cars are still big business and a VW Group SUV product offensive, that is bringing 19 new or updated models, is on target to complete soon. The brand's operating profit for this year has been readjusted from €1.9bn to €1.6bn, which is still some way ahead of Tesla.
Do you think VW's electric car target is achievable? Will it hit 1m EV sales before Tesla? Let us know in the comments section...