Volkswagen teases 266bhp rally-ready Polo GTI R5
Volkswagen's next hot supermini to enter competition with new WRC2-ready, customer only offering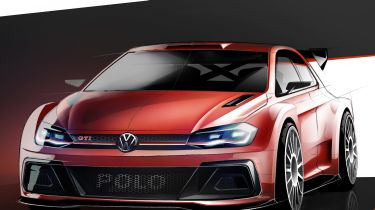 Volkswagen has teased a new rally-ready version of the next-generation Polo GTI, which will be offered to customer motorsport outfits next year.
While Volkswagen ended its participation as a works outfit in the World Rally Championship at the end of the 2016 season, the firm says that new Polo rally car - based on the new sixth-generation version of the supermini - will be up to the standard required for privateers to compete with it in world rallying's WRC2 division.
• Best superminis on sale 2017
Called the Polo GTI R5, it joins the Golf GTI TCR as another Volkswagen motorsport effort made available purely for customer teams. The German marque says it has been developing the car since the start of 2017, and while it won't be available for purchase until halfway through 2018, initial shakedowns are set to take place before 2017 is out.
Lessons learned from Volkswagen's fruitful stint as a full WRC outfit – resulting in four back to back world championships – have been applied to the Polo GTI R5. Key people involved with Volkswagen's WRC entry have worked on the R5, with the project headed up by Volkswagen Motorsport Technical Director Francois-Xavier Demaison.
Under the bonnet, the R5 makes use of a turbocharged 1.6-litre four-cylinder engine developing 266bhp. Power is delivered to a four-wheel-drive system via a five-speed sequential gearbox.
Volkswagen hasn't issued an official photograph of the car, but the teaser sketch leaves little to the imagination. The Polo GTI's hot hatch form factor has morphed into a wide, aggressive looking motorsport machine, complete with a wider track and a huge rear wing. Prices have not been revealed either, but in line with Group R5 regulations, the cost to customers will be capped at £158,000.
What do you make of the Polo GTI R5? Tell us your thoughts in the comments!