VW Polo 1.0 SE review
Verdict on British roads on new Volkswagen Polo supermini with 1.0-litre VW up! engine
The fifth-generation VW Polo was already one of the classier superminis, and this facelift makes it even more grown-up. Styling updates err on the side of caution and the new 1.0 three-cylinder petrol engine is no thriller, but improved infotainment and safety kit, plus more efficient engines, add to the appeal.
Blink and you'll miss the exterior tweaks to the updated VW Polo, but VW has rung the changes under the skin. New three-cylinder engines, and tech from the latest Golf, improve the package on paper - but how does it fare on UK roads?
Volkswagen predicts the new 1.0-litre engine, borrowed from the VW up!, will be the most popular choice in the range over here, especially in mid-spec SE trim. In town – the Polo's natural habitat – it's quiet enough, and certainly better than the old entry-level 1.2-litre petrol, offering a relaxed drive backed up by the smooth ride and excellent refinement.
Escape the traffic, though, and this less powerful 59bhp version is short on pace – 0-62mph takes 16.5 seconds, which isn't helped by the long ratios of the five-speed manual gearbox or the vague steering feel and rather loose body control.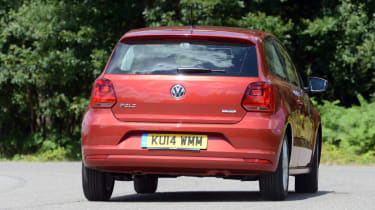 Impressive fuel economy and emissions of 60.1mpg and 106g/km are the 1.0-litre's saving grace. But working the engine hard is unavoidable, so you might expect 20mpg less than that in real-world driving. A conservative approach at least gives you time to enjoy the high-quality interior, featuring the VW Group's first-rate modular infotainment system (MIB).
From SE spec up this comes with a larger 6.5-inch colour touchscreen as standard, and is easily navigated using smartphone-style pinch-to-zoom gestures, providing access to Bluetooth, DAB radio and – if you add it for £700 – sat-nav.
The £240 rear view camera also relays images to this screen, although we didn't find life too difficult without it, as the three-door provides decent rear visibility. Much more useful is the safety kit included as standard for the £12,435 starting price, such as Hill Hold and post-collision automatic braking systems, while you can add high-end extras like radar-controlled adaptive cruise control.