New Volkswagen Transporter petrol models arrive as diesel alternative
Two turbocharged 2.0-litre petrol power units are aimed at van drivers covering fewer miles who want a change from diesel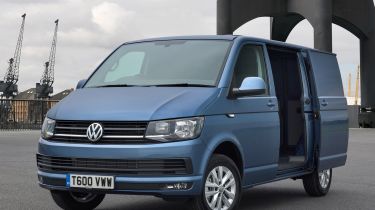 Volkswagen has revealed a new selection of petrol engines for the Transporter range, which are available across all varieties and bodystyles of the firm's mid-size van right now.
Two new powertrain options are available, both of them turbocharged 2.0-litre TSI units. A 148bhp version with 280Nm of torque, front-wheel-drive and a six-speed manual gearbox forms the new entry-level petrol powertrain, while a 201bhp unit sits above it, boasting a seven-speed DSG automatic gearbox as standard.
• Best medium sized vans on sale 2017
All-wheel-drive is offered as an optional extra with the more powerful version of the 2.0-litre engine, which also boast more pulling power thanks to a maximum torque figure of 350Nm.
These two new petrol units are available across the entire Transporter range, so the California, Caravelle Executive, shuttle, window van, motor home, kombi and plain old panel van Transporter variants are all covered.
Diesel is the order of the day for most commercial vehicle buyers, but Volkswagen reckons that for van drivers covering fewer miles, a petrol powered Transporter could make sense – the list prices for these models are cheaper than equivalently powered diesel vans.
For instance, a Transporter panel van with the 148bhp 2.0-litre petrol is £1,000 less than the 148bhp 2.0-litre TDI diesel. Prices for the new range kick off at £22,625 (excluding VAT).
Would you consider a petrol van over a diesel? Tell us in the comments below.