Volvo XC40 Recharge gets Range Assistant over-the-air update
The first big over-the-air update for Android Automotive backed Volvo models includes a new app intended to help owners maximise their driving range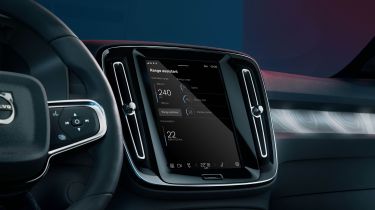 Volvo has announced that the Range Assistant feature found on the new C40 and Polestar 2 electric models will be coming to the XC40 Recharge as part of an over-the-air update.
It will be released on electric cars equipped with the brand's new Android Automotive OS backed infotainment system, introduced at the launch of the XC40 Recharge earlier this year.
The Range Assistant app will become available as a new icon on the infotainment screen's main app menu, and the brand says that it assists drivers in maximising and monitoring accurate, real-time electric range from their car. It can optimise energy management and give advice on how to get the best efficiency possible from the electric powertrain by encouraging the driver to adapt their driving style.
The driver gets to see electric consumption in real time, while the app can automatically adjust the climate control to a more efficient setting when required. Volvo plans to launch the software as a beta build on the XC40 Recharge with plans to update its functionality over the lifespan of the vehicle.
"Through in-house development of software and over-the-air updates, we can constantly improve our cars and make sure that your electric Volvo stays fresh," said Sanela Ibrovic, Head of Connected Experience at Volvo Cars.
Roll out of the new software will form part of an update available via a notification on the car's infotainment screen, and will arrive with what Volvo says are various bug fixes, additional safety features and information about the impact of cold weather on battery range.
The brand says the update will be available 'immediately' and expects all applicable models will be updated by the end of October.
What are the best cars for infotainment? Our Driver Power survey revealed all...