Dunlop Winter Sport 5 review
Respectable results in the aquaplaning tests aside, Dunlop's Winter Sport 5 offering is slipping behind newer rivals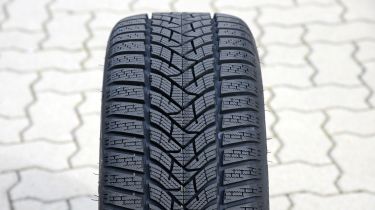 As we've seen in other recent tests, the Dunlop range is showing its age and it's hard to see when new designs will be coming, because the focus has switched to brand licensee Goodyear.
We've been testing the Winter Sport 5 since 2015 when it was runner up, but results since then have been mixed and now it's in the bottom three. Dunlop has always been a top performer on snow, but here it was fifth on the white stuff, showing how others have moved the game on.
It was in the same position across the wet tests, thanks to good aquaplaning resistance, but elsewhere it was off the pace. In fact it was lacking pretty much everywhere and needed patience on the throttle through turns. Care was also needed on corner entry because the rear moved quickly when the front gripped.
That low grip was still present in the dry, where it needed more lock than most through the longer turns. The lack of performance in the wet had an upside in economy where the Winter Sport 5 gave away less than one per cent fuel consumption to the frugal Bridgestone.
We say:
Advancing years does a tyre design no favours unless it is continuously developed, and this result would suggest that the Winter Sport 5 needs replacing or more investment.
Blackcircles.com says...
First launched over six years ago, this tyre enjoys good winter sales. Customers have left feedback focusing on the tyre's wet performance – scoring it 4.6/5 overall.
| | | |
| --- | --- | --- |
| Dunlop Winter Sport 5 | | |
| Overall: | 96.70% | |
| Price: | £123.10 | |
| Snow braking: | 98.7% | 4th |
| Snow traction: | 96.6% | 6th |
| Straight aquaplaning: | 95.4% | 5th |
| Curved aquaplaning: | 95.6% | 3rd |
| Wet braking: | 87.7% | 7th |
| Wet handling: | 95.1% | 7th |
| Wet circle: | 96.2% | 6th |
| Dry braking: | 94.4% | 7th |
| Dry handling: | 98.6% | 4th |
| Rolling resistance: | 96.9% | 4th |
| Cabin noise: | 99.1% | 4th |