Kumho Solus HA31 tyre review
Overall score: 95.9%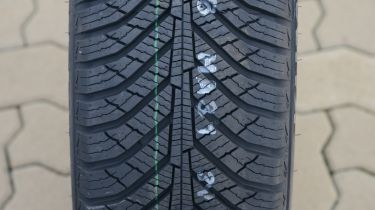 What we say: Needs updating and a better focus on UK driving conditions. Blackcircles.com: "Despite not having the best tyre label scores, the Kumho has received good feedback from our customers. Perhaps more work is required."
In the face of newer designs the Kumho struggled – it was launched in 2014 – although the gap to the frontrunners was fairly small. It certainly suffered more than most from our focus on wet grip at the expense of outright performance on snow.
It was fourth on the white stuff, behind Goodyear, Nokian and Nexen. Third in braking was the highlight, and it worked well on the handling circuit, albeit off the pace and feel of the best.
Its troubles started in the wet, where it ended up last overall. Braking let it down regardless of temperature; it needed five metres more in the cold and over four metres extra in warmer weather than the standout Michelin.
It was controllable but slow on the handling track with generally low levels of grip and poor traction. Performance didn't get much better in the dry, while fuel consumption was around four per cent off that of the dry-handling star Nokian.
Buy the Kumho Solus HA31 from Black Circles 
| | | |
| --- | --- | --- |
| Price | £67.79 |   |
| Snow braking | 94.60% | 3rd |
| Snow traction | 89.70% | 5th |
| Snow circle | 98.20% | 4th |
| Snow handling | 96.30% | 4th |
| Straight aquaplaning | 96.70% | 6th |
| Curved aquaplaning | 75.60% | 6th |
| Wet braking under 7˚ | 83.40% | 8th |
| Wet braking over 7˚ | 84.50% | 8th |
| Wet handling under 7˚ | 93.50% | 8th |
| Wet handling over 7˚ | 93.10% | 8th |
| Wet circle | 94.80% | 7th |
| Dry braking | 90.00% | 5th |
| Dry handling | 96.30% | 8th |
| Rolling resistance | 82.90% | 6th |
| Cabin noise | 99.20% | 4th |