Goodyear Eagle F1 Asymmetric 5 review
Promising test debut, with good performance in the wet, but less good at the pumps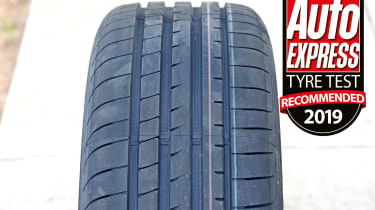 All new tyres are important for the producer, but the Asymmetric 5, launched earlier this year, comes at a key time for Goodyear.
After years letting sister brand Dunlop take the sporting limelight, Goodyear is attempting to revive its own reputation at the faster end of the market. This is our first full look at the Asymmetric and its promise looks to have been fulfilled. We couldn't separate it from the Dunlop overall, and the gaps were small in the tests, too.
The Goodyear had the edge in its traditional area of expertise – the wet. It starred in the aquaplaning tests, and in the shallower-water handling and braking tests. It felt assured behind the wheel, too, with good traction and a positive turn-in.
In the dry the Asymmetric 5 was less effective, although the margins were small compared to the leaders. It faded when we lapped the dry handling circuit; as the temperatures rose the tyre felt softer and the lap times suffered. In the Dry braking test, it finished less than a metre behind the winning Falken.
It also dealt well with our selection of surfaces in the cabin noise test. Less impressive was the fuel consumption, which we'd hoped would be better on a new design, although most of its rivals performed much the same.
Blackcircles.com says...
"Despite this being quite new, buyers have responded positively, with a rating of 4.7/5. Their comments focus on good grip, but noise levels are a negative"
Figures
Goodyear Eagle F1 Asymmetric 5
Overall
99.50%
3rd
Price
£156.47
Wet handling
99.80%
2nd
Wet braking
99.10%
3rd
Wet cornering
98.60%
4th
Straight aquaplaning
99.00%
2nd
Curved aquaplaning
100.00%
1st
Dry handling
99%
6th
Dry braking
98%
5th
Rolling resistance
78.30%
7th
Cabin noise
99.70%
2nd