In-car DVD players
Plug in a portable media player, and long journeys will fly by for passengers. We choose from eight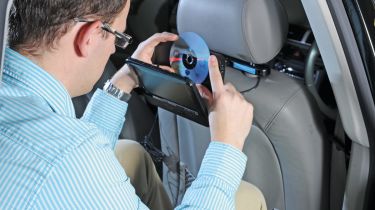 Keep passengers entertained on long journeys this summer by letting them watch movies in the car. There is a wide range of portable devices which play DVDs, while the latest offerings can play Blu-Ray discs and read media from USB memory sticks and SD cards, so users can view holiday snaps and listen to their own music in the back of the car.
Some even have multiple headphone sockets for two to share a screen, plus loudspeakers and remote controls. But which is best? We hit the road to test eight top solutions.
How we tested them
There are two basic designs of portable media player – single clamshell units which open like laptops, and dual-screen set-ups which are like tablet PCs. Our test incorporated both, and we also looked at wildcard solutions, such as a portable TV and an Apple iPad.
We wanted an easy way to secure each solution in the car – ideally to a headrest – and where there were two screens, we preferred those with a case for each. During our test, we played the same film to rate build, screen and sound quality.
We noted the number of USB and SD card slots, and looked at ease of use. Sets featuring rechargeable batteries scored points – they can be played when the car isn't running – as did those with car chargers and headphone sockets. Price was our final factor.
Verdict
Philips' PS7042 portable DVD player undercuts our 2011 champ and is just as well built. The Nextbase SDV49-AC ticks a lot of boxes, so takes second, while the top-value Logik is ideal for keeping one passenger entertained.
1. Philips PD7042
2. Nextbase SDV49-AC
3. Logik L7SPDVD11