Clean your car for under £35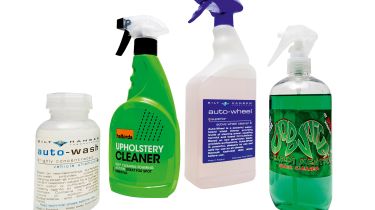 Tackling the outside first, a shampoo or wash is essential. Don't be tempted to use washing up liquid – it's not good for paint. We like those that bead water away, leaving the minimum to be dried off with a cloth, and the super concentrated Bilt Hamber auto-wash (£9.95) is our test winner. You'll need a wheel cleaner, too, and Bilt Hamber's auto-wheel (£12.95) is one of the new generation that turns purple as it works and can be used on delicate surfaces like chrome.
For the cabin, and to keep costs down, we recommend a cleaner that can do both fabric and plastics, and our pick is the cheap and cheerful Halfords Upholstery Cleaner (£3.50). Tackling glass inside and out is the final job, and for that you need Dodo Juice Clearly Menthol (£7.95).
What you'll need:
Items from under £15 plus...
• Bilt Hamber auto-wash (£9.95)
• Halfords Upholstery Cleaner (£3.50)
• Bilt Hamber auto-wheel (£12.95)
• Dodo Juice Clearly Menthol (£8.99)
Click the links below for other budgets
• Clean for car for under £35