Clean your car for under £300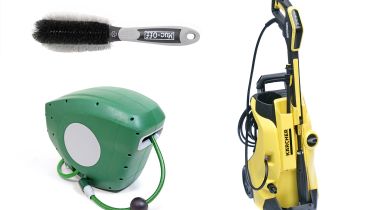 The first step in making cleaning easier is to invest in a hose. A wall-mounted retractable reel is easiest to use, and our test winner is the Kingfisher 20 Metre version (£64.95). Simple reels can be had for much less, though, and often come with a multi-spray gun.
With a hose and electricity where you clean, you can invest in the biggest factor in speeding up valeting – a pressure washer. With a good pressure washer shampoo, it can leave very little grime to wipe off with a mitt. Our current pick is the Karcher K4 Full Control Home (£199.87).
A brush can make quicker work of a grimy rim than a mitt. Muc-Off's Wheel & Component brush (£3.99) is our favourite, as it's tough enough to work surfaces hard, and has the length to reach in between spokes.
What you'll need:
Items from under £15, £35, £70, £100 and £140 plus...
• Kingfisher 20 metre hose (£64.95)
• Karcher K4 Full Control Home (£199.87)
• Muc-Off Wheel & Component Brush (£3.99)
Click the links below for other budgets
• Clean for car for under £300