Alfa Romeo to build 1,000bhp BMW M5 rival
An all-electric Alfa Romeo executive saloon will utilise a tri-motor set up from Maserati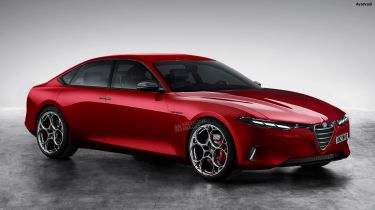 Alfa Romeo has not made a large saloon car since the 166 went out of production in 2007, but the Italian firm will return to the sector with an all-electric offering in 2027, and it'll feature a hot Quadrifoglio range-topping version. 
Speaking to Auto Express, Alfa Romeo CEO, Jean-Philippe Imparato revealed the brand would build a large saloon to act as a bigger brother to the forthcoming Giulia EV. "I'm bringing to market in 2027 the E-segment car [executive saloon] that will feed North America, Europe and the Stellantis group, because the E-segment is not common in Stellantis."
This saloon will have numerous rivals by the time it hits the road, namely the upcoming BMW i5, Audi A6 e-tron and the Mercedes EQE. The Alfa Romeo might have them all beaten in terms of performance, however, with the STLA Large platform from parent company Stellantis allowing for a battery size of up to 118kW. We expect the hot Quadrifoglio model to use a tri-motor set up - similar to the one in the Maserati GranTurismo Folgore. "The Quadrifoglio version will have around 1,000bhp with 800V architecture," said Imparato. 
Our exclusive image reveals what we think the new large saloon will look like. Imparato also shed some light on the lower-rung versions, stating "the base model will have 350bhp and the core Veloce around 800bhp. Everything is locked in when it comes to design. We think around 18-minute recharging [for an 80 per cent top-up]. Alfa Romeo will be the first within Stellantis to unveil this new architecture."
In terms of driving range, the Alfa Romeo boss indicated an estimated 435-mile maximum for the base model. The performance-focused Quadrifoglio will certainly offer a lower figure than this. 
While the new car is a long way from production it's likely that pricing will rival cars such as the EQE, which currently starts from just less than £75,000. However, expect the price point for a large executive saloon to rise in the intervening five years.
The STLA Large platform should also pave the way for a large SUV at some point. Imparato said the saloon should come first, "because when you look at EV you look at range", suggesting the saloon's better range will make it a better introduction to the large EV sector than an SUV.  
Now check out our list of the best electric cars to buy right now...