New Alfa Romeo Zagato to celebrate 100 years of collaboration
The new car will utilise Giulia underpinnings but with typically wild Zagato styling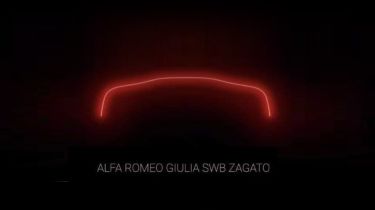 Italian coachbuilder Zagato has teased its new car, called the Giulia SWB Zagato. It'll be built in partnership with Alfa Romeo, although Alfa says the project is a Zagato one rather than its own. 
Zagato and Alfa Romeo have a long history together, with the coachbuilder first working on Alfas in 1921 with the G1. Since then, we've seen Zagato interpretations of Alfa Romeos in the form of the 1600 Junior Zagato, the SZ and more recently the Dodge Viper-based Alfa Romeo TZ3 Stradale. In keeping with Zagato's history, the new car will most likely be very limited in production numbers.
As a slightly belated centenary celebration of Zagato and Alfa Romeo working together, the new Giulia SWB Zagato will pay homage to designs of old, as suggested on a shadowy teaser image. The rear light bar indicates there will be a Kammback rear end - similar to the TZ3 and Junior Zagato. 
Judging by the SWB name we expect the Giula platform to be shortened somewhat. A 2.9-litre twin-turbocharged V6 taken from the Quadrifoglio model will almost certainly feature under the bonnet, mated to an eight-speed manual transmission with power going to the rear wheels. Given the shortened wheelbase, the handling characteristics of the Giulia SWB Zagato could be pretty interesting with over 500bhp on offer. 
The interior should resemble that of a regular Giulia Quadrifoglio for the most part. The infotainment and dials are likely to change, although as with previous Zagato creations, there should be plenty of the finest Italian leather draped over the cabin surfaces. 
Alfa Romeo will launch a new internal-combustion mid-engined sports car in 2023 as CEO Jean-Philippe Imparato has previously alluded to. "Alfa is sportiness. You will see something sporty in the first half of 2023", he exclusively told Auto Express. We expect a carbon-fibre bodied mid-engined sports car that harks back to the iconic 33 Stradale to be revealed in the first half of the year.
Now read our review of the Alfa Romeo Tonale PHEV...