All-electric Alfa Romeo Giulia will come with 500-mile range
The Alfa Romeo Giulia will ditch combustion engines for EV power by 2027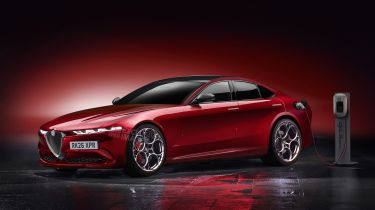 Alfa Romeo is finalising its plan to become a fully electric car company by 2027, and its Giulia compact executive car will survive the transition by becoming an EV. It's expected to sit on the Stellantis STLA Large architecture which will also underpin other EVs from the Italian brand. 
The current Giulia was first launched in 2016 and it received minor cosmetic tweaks in 2020 alongside a refreshed infotainment system. We're unlikely to see a internal-combustion engined successor to the Giulia given Alfa's switch to electrification is just five years away, so we're anticipating only mild tweaks to the current model towards the end of its lifespan. 
The Giulia EV's underpinnings will offer a minimum of 800km (497 miles) of range, with battery sizes ranging from 101kWh to 118kWh, according to Stellantis investor information. This would give the electric Guilia the longest range of any EV in the UK, beating the 485-mile Mercedes EQS into second place. It will also have class-leading rapid-charge capability, with up to 20 miles of range added per minute.
Alfa Romeo's chief executive officer, Jean-Philippe Imparato spoke to Auto Express last year regarding the future of the Giulia and the firm's focus on electrification. "Alfa Romeo will have a future for Giulia, and will do the job for SUVs too, because we are Chinese and we are American, but that shape of the Giulia is fantastic, I don't want to lose this.
"The car is absolutely gorgeous, so there is a future for this type of car, but it will be a future that will be electrified. It means probably 100 per cent full BEV [battery electric vehicle] for Alfa Romeo."
According to Imparato a move to full electrification for its core saloon is a must as the brand looks to turn its portfolio of models to fully electric by 2027.
"I have to make some big choices. If I want to have more than an average level of performance, I must be bold," he said. "If I say I go electric, I go electric. I'm not half pregnant, if you see what I mean? It doesn't work. It is a risk, but that's normal. We are here to take some risks, but we have passed the tipping point for me."
Despite the move to all-electric powertrains, Alfa's boss outlined that the brand would continue to prioritise the driver-centric and sporty approach its cars have become known for over its 111-year history.
"I would love to have this 'light is right' tagline for Alfa Romeo," Imparato said. "Even if I have one tonne of battery behind me, I want to convey an idea of lightness, even if I am electrified. It's a fundamental of Alfa Romeo and we are building this new range based on that. But it's not enough – we are working on the vibe you will feel when you drive an Alfa Romeo in 2025."
This won't be an artificial sound either, according to Imparato. The Frenchman outlined that he doesn't want to bring fake features to Alfa's cars, which would not be in keeping with its values.
Partnership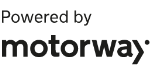 Need to sell your car?
Find your best offer from over 5,000+ dealers. It's that easy.
As a result, his innovation team is working on sensations it wants its customers to feel, vibrations, feedback "probably some new sounds and movements, but nothing fake – that is the intention".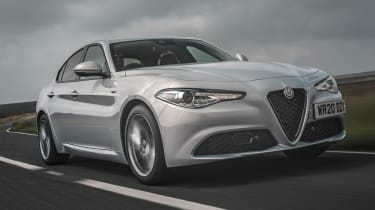 On the performance end of the Giulia scale, the Quadrifoglio's future is not clear. There is potential for more powerful all-wheel drive models to sit on the STLA Large platform, with Stellantis claiming a 0-62mph time of 2.0 seconds is possible for cars based on this tech. Imparato has said that if Alfa Romeo was not able to deliver the right level of performance a Quadrifoglio model needed to bring in any given sector, the brand would not compromise by building such a car.
Alfa Romeo will study a performance-focused Quadrifoglio version on all of its new-car launches, looking to offer this higher-powered, more aggressive option that's "fully consistent with the Quadrifoglio message that we stand for since the beginning of the brand."
Stellantis will have three electric drive modules at its disposal, with the third offering 400 or 800v tech and up to 443bhp per motor. It means to reach the required performance level for a Giulia Quadrifoglio it would likely use a dual-motor four-wheel-drive set-up.
To protect the characteristics Alfa needs its future cars to have the brand has a member of its product team embedded in the development of the STLA Large architecture. "The guy who is embedded by us to define the specification, the features, the performance, is Fabio Migliavacca, the guy who developed the GTA version for Alfa Romeo. He breathes Alfa Romeo, so he will give the features we need to define this totally clean-sheet design."
It's unlikely there will be a GTV in the future, however, with Imparato citing the volume of three-door coupe sales in this segment as a potential sticking point compared with five-door saloon sales.
The Giulia will be part of Alfa's fully electric product offensive that kicks off in 2024 – likely to be an SUV – that will offer one trim and two powertrains. It will be followed by one launch or big product event per year over the next five years, with this plan already signed off and funding allocated.
The Tonale will launch in 2022 after a 12-week delay to improve the car's performance, followed by a product event in 2023, which will likely be a small SUV. "The first full EV will come in 2024 and we'll see a big launch in 2025, 2026, and we'll see Alfa Romeo as full BEV in 2027. This is validated and funded."
There are also a number of "dream cars" Imparato would love to create. While he admitted a GTV is on that list, he said: "If I have to make a choice, I go for the Duetto Spider. Obviously, we have designed that car, but I will not dare to put that on the table before Alfa Romeo is completely secure [in its finances]. But we can do it with the technological bridge we have in the product plan, no problem."
Check out our review on the all-electric BMW i4 here...