Aston Martin plans £620million investment in China
10 new Aston Martin dealerships in China will be opened to prepare for the new Vantage and the Aston SUV launch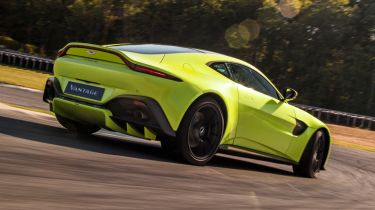 Aston Martin is planning to expand its global footprint with planned trade and investment deals in China that could total up to £620 million, the British manufacturer has confirmed. 
Aston boss Andy Palmer made the announcement as he accompanied British Prime Minister Theresa May on a trade visit to the country. Part of the investment will see 10 new or refurbished Aston Martin dealerships opened in China by the end of 2018 taking the total number of dealers in the country up to 20.
China is the world's largest new car market and Aston predicts further demand in the region with the imminent launch of the new Vantage. Following that, the company's first SUV and all-electric model are both due to launch in 2019 and are expected to boost sales further.
"Our impressive 2017 performance in China reflects increasing demand for our new and special vehicles," said Aston boss Andy Palmer. "The continued roll-out of our new model pipeline, including the company's first electric vehicle in 2019, will further improve Aston Martin's market share in this key market, alongside investments we are making to strengthen brand visibility and sales performance."
Following on from the Vantage and SUV will be an all-new version of the Vanquish. It will be based on a version of the DB11's chassis and compete against the Ferrari 812 Superfast. 
Now check out our round-up of the best and worst Chinese copycat cars...